After the Union Territory of Diu, a floating restaurant on a cruise vessel will now be launched on the Sabarmati river in Ahmedabad. The cruise vessel, which will be launched in June, can host up to 150 persons at a time, including the crew members.
The vessel will take the guests on a 90-minute ride from the Sardar Bridge to Gandhi Bridge and offer meals, live shows and music. The charge per person has been fixed at Rs 2,000.
According to I K Patel, the executive director of the Sabarmati River Front Development Corporation Limited (SRFDCL), "The Sabarmati riverfront was always envisioned to be vibrant and active for the people of the city. The plan to have a floating restaurant like this has been there since 2014. But it is only now that the plan has materialised."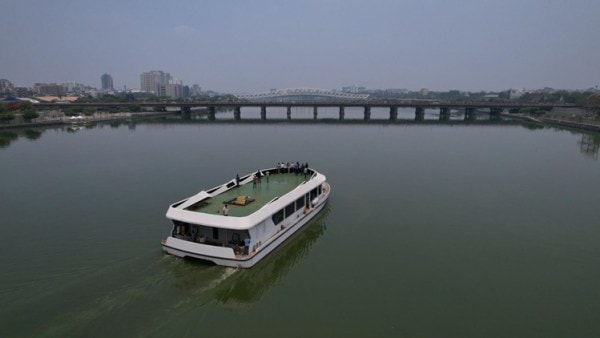 An aerial view of floating restaurant. (Express)
The work order was given to Akshay Travels Private Limited, an Ahmedabad-based company in June 2022, to operate the river cruise. "The firm will pay concession fees of Rs. 45 lakh per annum to the SRFDCL to run the cruise. The firm had given the contract for the manufacturing of the cruise to Wadia group, based in Bilimora, Navsari. The assembling of the ship took place near the riverfront. The total cost of the project was about Rs 15 crore," said Patel.
Patel added, "The cruise vessel has lower and upper decks. The lower deck has air conditioning while it is open sky on the upper deck. There will be performances, live shows and displays that will show important historical events associated with Ahmedabad like its heritage, Gandhi's satyagraha and so on."
The floating restaurant will only offer lunch and dinner. "The first trial round of the cruise from Sardar bridge to Gandhi bridge was successfully completed. Currently, the interior work is going on. More trials will be performed," said Patel.
The cruising restaurant is 30 metre in length and 10 meter wide. The Sabarmati riverfront already has boating, kayaking, zorbing and other facilities.




Read More: 90-minute ride, meals, live shows and much more: Sabarmati river to soon have floating