I love seeing what people are eating for breakfast. In our test kitchen, for example, there's a range of wonderfully different things in everyone's morning bowl: Noor and Verena have their berry- and seed-filled porridge, Tara seems to eat a za'atar-doused variation on salad niçoise most mornings and Chaya usually comes up with some take or other on seafood with roti. The mix is eclectic, but savoury seems to be the theme that unites the team every morning, the celebration of which defines this week's recipes.
Strata with tomatoes and capers
This savoury bread pudding is a sort of breakfast casserole, and is the ultimate make-ahead brunch for when you're feeding a crowd; it's also a delicious way to use up stale bread. If you like, swap the bacon for chunky pieces of hot smoked salmon or mackerel.
Prep 35 min
Rest 4 hr+
Cook 1 hr 35 min
Serves 8
3 large onions, peeled and cut into quarters (600g)
4 garlic cloves, peeled
2 tbsp olive oil
1 tsp picked thyme leaves
250g streaky bacon, cut into 1cm dice
Fine sea salt and black pepper
70g parsley, 30g leaves and fine stems finely chopped, the remaining 40g stems finely chopped and kept separate
120g lancashire (or cheddar), coarsely grated
70g parmesan, finely grated
450g stale sourdough, cut into 1½cm-thick slices
3-4 plum tomatoes (300g), grated (discard the skins)
8 eggs
700ml full-fat milk
300ml double cream
2 lemons, zest finely grated, to get 2 tsp, then juiced, to get 3 tbsp
30g wholegrain mustard
For the salsa
130ml olive oil
30g fine capers (drained weight)
150g cherry tomatoes, cut into quarters
Put the onion and garlic in the bowl of a large food processor and pulse until coarsely chopped. Put a large saute pan on a medium-high heat, add the oil, the onion mixture, the thyme, bacon, half a teaspoon of salt and plenty of black pepper, and cook, stirring frequently, for 25-30 minutes, until lightly golden and starting to catch on the base of the pan. Take off the heat, stir in the 40g chopped parsley stems and leave to cool.
Combine the two cheeses in a small bowl, then stir 140g of the cheese mix into the cooled onion and bacon mixture.
Lay out the slices of bread on a large oven tray, spread the grated tomato all over the top, then arrange in a 30cm x 20cm baking dish, so they overlap a little. Stuff the remaining onion and bacon mixture in between the slices.
Now make the custard. Break the eggs into a medium bowl, add the milk, cream and a half-teaspoon of salt, and whisk well. Sieve the mixture into another bowl, then stir in the lemon zest, mustard and a good grind of black pepper. Pour this all over the bread in the baking dish.
Put a large sheet of greaseproof paper on top of the dish, weigh it down and hold it in place with a heavy baking dish, then chill for at least four hours, or overnight.
An hour before you want to serve, take the dish out of the fridge so it has time to come back to room temperature. Heat the oven to 200C (180C fan)/390F/gas 6. Remove the weight, discard the paper and sprinkle the remaining 50g cheese all over the top of the strata. Cover with foil, bake for 30 minutes, then take off the foil and bake for another 25-30 minutes, until the strata is deeply golden. Remove from the oven and set aside to rest for 10 minutes.
Meanwhile, make the salsa. Put all the remaining parsley in a small bowl with the olive oil, capers, tomatoes and lemon juice, add a half-teaspoon of salt and a good grind of pepper, and stir to combine.
Spoon a quarter of the salsa over the rested strata, then serve hot with the remaining salsa on the side.
Chilaquiles with charred salsa verde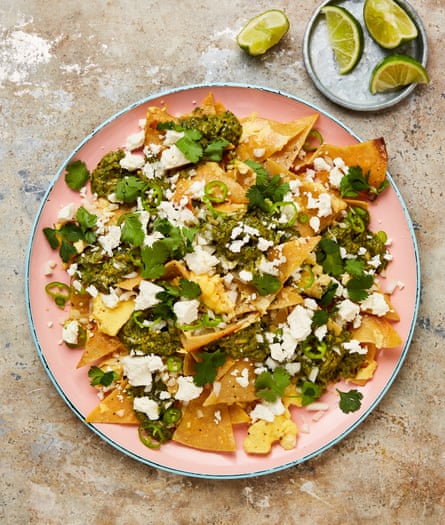 The late, great Diana Kennedy describes chilaquiles as "Mexican soul food", and I couldn't agree more. They're essentially yesterday's corn tortillas, broken into pieces, cooked in salsa and sprinkled with cheese, making a great brunch dish that oozes comforting familiarity. If you like, use a chopped fresh salsa instead, or, to make this even more of a feast, serve with some crisp slices of fried chorizo or mushrooms.
Prep 20 min
Cook 40 min
Serves 4
For the charred salsa verde
3 garlic cloves, peeled
1½ onions, peeled and cut into quarters (270g)
2 green chillies (20g), stems removed
1 avocado (170g), skinned, stoned and flesh roughly chopped
2 kiwi fruit (100g), peeled and roughly chopped
20g coriander, roughly chopped
2 limes, 1 juiced, to get 1 tbsp, the other cut into wedges
Fine sea salt and black pepper
For the chilaquiles
3 tbsp vegetable oil
8 corn tortillas, each cut into 8 triangles – I like the ones from Cool Chile Co
20g unsalted butter
6 eggs, beaten
½ onion, finely chopped
1 tbsp coriander leaves
1 green chilli (10g), cut into thin rounds
75g feta, crumbled
Start by making the salsa. Put a griddle pan on a high heat and, once hot, char the garlic, onions and chilli, turning as necessary, until blackened all over – the garlic and chilli will take about eight minutes and the onion about 20. Lift out on to a plate as they're ready, then leave to cool. Once cool, put the garlic, onions and chilli in a blender with all the other salsa ingredients except the lime wedges, add two tablespoons of water, a quarter-teaspoon of salt and a good grind of black pepper, and blitz smooth. Scrape into a small bowl and set aside.
To make the chilaquiles, put a large frying pan on a high heat, pour in a tablespoon of oil, then add a third of the tortilla triangles and fry, stirring constantly, for four to five minutes, until golden and crunchy. Lift out with a slotted spoon and drain on a plate lined with kitchen roll, then repeat with the remaining oil and tortilla triangles.
Once all the tortillas are draining, turn down the heat under the pan to low and drop in the butter. Once it has melted, return the tortillas to the pan, then add the eggs, a quarter-teaspoon of salt and a good twist of black pepper, and, using a spatula, gently and quickly fold the eggs over the tortillas three or four times, until they're just set.
Transfer to a platter and spoon half the salsa over the top. Scatter on the onion, coriander, chilli and feta and serve hot with the remaining salsa and the lime wedges on the side.
Udon with mushrooms and soy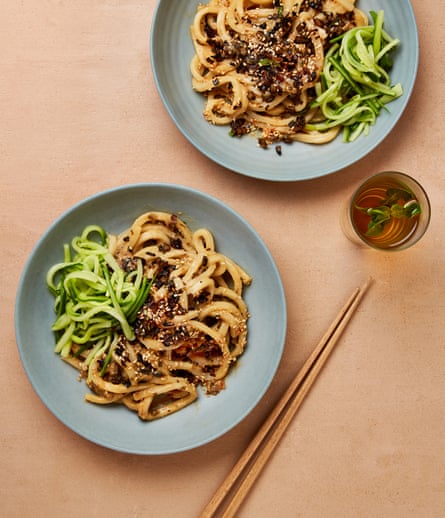 These are inspired by my colleague Katja Tausig's time working at Koya, a wonderful restaurant in Soho that's rightly renowned for its udon noodles and Japanese breakfasts. This is her version of Koya's kama tama, a simple dish of udon, egg, soy and spring onions. I've used ready-cooked udon for ease, but frozen would be fine, too. Have all the ingredients measured out before you start cooking, though, because it all comes together very quickly.
Prep 10 min
Cook 10 min
Serves 2
⅓ cucumber, cut into 6cm-long julienne strips (120g)
Fine sea salt
2 tsp rice-wine vinegar
35g unsalted butter
1 portobello mushroom, finely chopped (65g)
2 spring onions, trimmed and finely chopped (30g)
1 tbsp soy sauce
1 tbsp white miso
2 large egg yolks (save the whites for another use)
2 x 150g packets ready-cooked udon
½ tsp sesame seeds, toasted
Half-fill a medium saucepan with water and bring it to a boil. Meanwhile, put the cucumber and a quarter-teaspoon of salt in a small serving bowl, toss to combine and set aside for five minutes. Discard any liquid from the bowl, then stir in the vinegar and set aside to pickle.
Put a medium saute pan on a medium-high heat and, once hot, add the butter, mushroom and spring onions, and cook, stirring occasionally, for five minutes, until browned. Take the pan off the heat, set aside two tablespoons of the mushroom mixture, then stir the soy sauce, miso and egg yolks into the pan.
Drop the noodles into the boiling water for about 30 seconds (if cooking them from frozen, give them a minute or two), until the strands separate. Reserve two tablespoons of the cooking water, then drain the udon and tip into the saute pan with the reserved water. Using tongs, mix well until the noodles are coated, then transfer to two shallow bowls. Sprinkle the reserved mushrooms and the sesame seeds on top, and serve with the cucumber pickle on the side.




Read More: Yotam Ottolenghi's breakfasts from around the world – recipes