Nigerian celebrity chef, Hilda Effiong Bassey aka Hilda Baci, has rightfully earned her place as the people's sweetheart after she set out to break the Guinness World Record for the longest cooking marathon by an individual.
Hilda's great feat started to gain momentum on social media on May 14, 2023, even though it was a four-day marathon.
The 27-year-old's ambition to break the Guinness record became a trending topic on social media and it drew the attention of so many Nigerians who were very proud of what she had set out to do.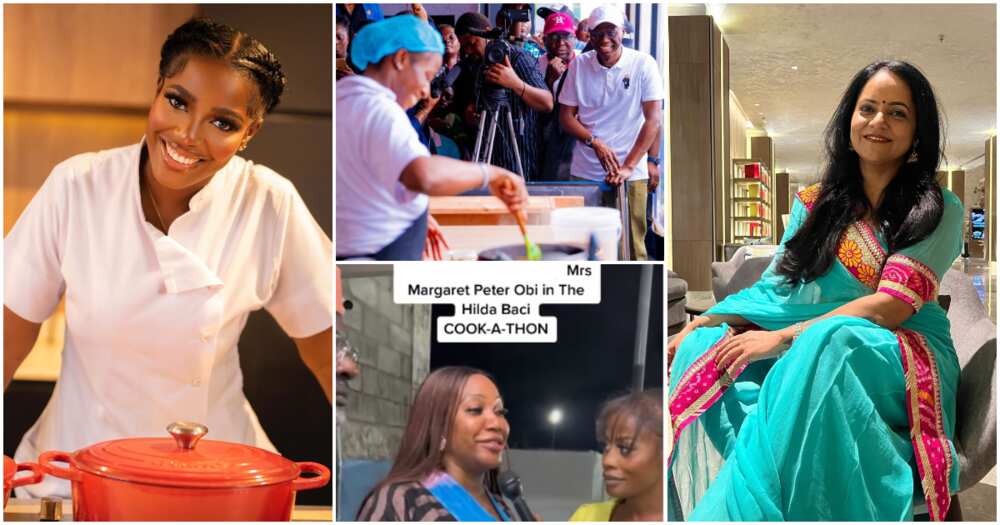 The previous world record for the longest cooking marathon was held by Indian chef, Lata Tondon, who had achieved it in 2019. Hilda Baci has however now beaten Tondon's record.
Nigerians proved to be loving and supportive people after many of them stormed Hilda's cookout venue to sing for her and cheer her on. Many of them did not mind the heavy rain but they continued to praise the 27-year-old chef as they watched her behind the glass.
Top influential people were not left out. Many of them either visited Hilda at the 'cookathon' venue while others put calls through to her or showed her love on social media.
Today, Legit.ng will be looking at a list of top Nigerian celebrities who showed support for Hilda Baci to break the Guinness World Record of longest cooking marathon by an individual.
See below:
1. Nigeria's president elect Bola Ahmed Tinubu calls Hilda Baci Idan:
Hilda's cookathon was being aired on her Instagram live when Nigeria's president elect, Bola Ahmed Tinubu's Instagram page was spotted in the comment section. The politician had dropped a funny comment where he praised the young chef's actions. She was described as an 'idan'. According to Tinubu, 'Idan doesn't break, she breaks records'.
2. Lagos state governor Babajide Sanwoolu visits Hilda Baci during 'cookathon':
Lagos state governor, Babajide Sanwoolu, was also one top Nigerian who showed Hilda support in her quest to break the Guinness world record. The politician visited the 27-year-old chef at the venue of her 'cookathon' and even had a taste of some of her preparations. Sanwoolu's visit might have been influenced by netizens who claimed that if it had been before the election period, he would have been there. Well, the Lagos state politician proved them wrong and visited Hilda despite already winning the election for second term.
3. Iyabo Ojo praises Hilda Baci on social media:
Nollywood actress, Iyabo Ojo, just like many other Nigerians, expressed her belief in Hilda. The movie star showered prayers on the young chef and noted that she believes she would be victorious in what she had set out to achieve.
4. PDP's presidential candidate Atiku Abubakar called Hilda an inspiration:
The Peoples Democratic Party (PDP)'s presidential candidate, Atiku Abubakar, was also not left out in celebrating the young Akwa-Ibom chef. Taking to Twitter, Atiku called Hilda an inspiration for all as he acknowledged that what she was doing was no easy feat.
5. Nigeria's vice president Yemi Osibajo puts call through to Hilda Baci:
During the cookathon, Hilda Baci received a phone call from Nigeria's vice president, Yemi Osibajo. He gave her strong words of encouragement as he acknowledged her hard work in wanting to break the Guinness world record.
6. Tiwa Savage visits Chef Hilda Baci at cookathon:
Top Nigerian singer and number one African bad girl, Tiwa Savage, is another top celebrity who got wind of Hilda's great feat and showed her support. Videos made the rounds online showing the music star arriving at Hilda's cookathon venue to show her support. Tiwa was allowed access into the cooking station as she physically supported the young chef with her presence.
7. Actor Charles Okocha aka Amoshine visits Hilda Baci:
Popular Nollywood actor, Charles Okocha who is also known as Amoshine was called on by Nigerians on social media. A number of them had taken to Twitter to comment on how they would imagine him hyping the 27-year-old chef. Well, Charles decided to make it a reality by visiting the cookathon venue. He was seen calling Hilda a phenomenal chef.
8. Singer and hypeman Segun Johnson honours Hilda Baci with visit:
Popular Nigerian musician and wedding MC, Segun Johnson, is another celebrity whose presence at Hilda's cookathon might have been influenced by social media. Some netizens had reached out to him online, saying that he needed to hype Hilda in his signature style that had gotten people to dance happily in the past. Shortly after, Johnson acknowledged that he would be at the venue and true to his word, videos later made the rounds showing him present with Hilda at the cookathon.
9.Wizkid watches Hilda Baci cook on Instagram:
Grammy-winning Nigerian musician, Wizkid, was also one top celebrity who showed Hilda Baci support. The More Love Less Ego star joined thousands of others to watch the young chef cooking on her Instagram live. Not stopping there, Wizkid went ahead to drop a series of heart emojis to show his support.
10. Peter Obi and wife Margaret celebrate Hilda Baci:
Much loved Nigerian presidential candidate under the Labour Party, Peter Obi, was not left out in showing Hilda some love. Taking to his Twitter page, he noted that Hilda's plan to cook for four days and break the Guinness World Record showed the true Nigerian spirit of hard work and resilience.
Peter Obi's beautiful wife, Mrs Magaret Obi, took her own support a step further by actually being at the cookathon venue. In a video making the rounds, Mrs Obi was all smiles as she spoke on how her Akwa Ibom sister was making the country proud. See the heartwarming videos below:
11. Burna Boy says he is sure Hilda's food tastes good:
Another of Nigeria's Grammy winning musicians, Burna Boy, also took part in celebrating Hilda's great achievement. Taking to Twitter, Odogwu shared words of encouragement for Hilda. According to him, he is rooting for her to break the Guinness world record and he has no doubt that her food is delicious.
12. Tonto Dikeh shows Hilda Baci support, urges others to do same:
Actress Tonto Dikeh is another Nigerian celeb who expressed pride in what Hilda Baci had set out to do. The movie star shared a post to encourage the young chef and noted that she did not know her personally but she wants to support a fellow woman doing great things. Tonto also urged others who could not be at the venue to support Hilda on social media.
13. Former record holder Lata Tondon celebrates Hilda Baci:
The former Guinness world record holder for the longest cooking marathon by an individual, Lata Tondon, also showed love and support for Hilda Baci for setting out to beat her record. Taking to social media, the Indian chef who had broken her own record in 2019 shared words of encouragement for Hilda and hoped to see her soon as a winner.
14. Guinness World Record cheers Hilda Baci on:
As Hilda Baci's cookathon continued to air on her Instagram live, the official Guinness World Record Instagram page was spotted viewing and also dropping a comment for the Nigerian chef. The verified page wished Hilda good luck.
15.Kate Henshaw supports Hilda Baci:
Veteran Nollywood actress Kate Henshaw has been known to always support women and this time was not any different. The movie star was at the venue of Hilda's cookathon, cheering her on.
16. Ex-Akwa Ibom governor, Senator Godswill Akpabio attends Hilda's cookathon:
Also present at Hilda Baci's cookathon was top Nigerian politician, Godswill Akpabio. The ex-Akwa Ibom governor went to watch the 27-year-old chef cooking live as he rendered his support with his physical presence.
17. Pastor Bolaji visits Hilda to show support:
Popular Nigrian preacher, Pastor Bolaji, is also one known face who was present at Hilda Baci's cookathon. He made sure to pray for the 27-year-old chef.
18. World record older Kaffy supports Hilda:
Popular Nigerian dancer and Guinness world record holder, Kaffy, was also there to celebrate Hilda Baci. She was present at the venue to cheer on Hilda and keep the waiting crowd entertained.
While these are only a few of the Nigerian and international celebrities who showed Hilda Baci support for trying to break a Guinness record, there were many others such as Enioluwa Adeoluwa, Harmonie, Banky W and Adesua Etomi, KieKie, Mr Macaroni, IK Osakioduwa, Alex Unusual, Kemen Fitness, Dremo, Spyro, Iyanya, and more who celebrated the young chef both online and offline.
There is no doubt that Hilda Baci has put the country's name on the world stage for positive reasons and Nigerians are proud to call her one of their own.
Hilda Baci excitedly gists with Kaffy as dancer shows up to support her
Dancer Kaffy showed up to support her. A world record holder herself, the dancer drummed support for Hilda at the venue as well as online.
The pair gisted like friends as Kaffy marvelled over how many meals she had cooked and the number of people she had catered to since she kicked off the cooking challenge.
Hilda had a brief moment of fun as she danced while Kaffy recorded.
Source: Legit.ng




Read More: Hilda Baci: Tinubu, Tiwa Savage, Burna Boy, others who showed chef support