Population biologist Sir Charles Godfray used this year's City Food & Drink Lecture to share his optimism on feeding a global population of 10 billion and to argue for 'sustainable intensification' in Britain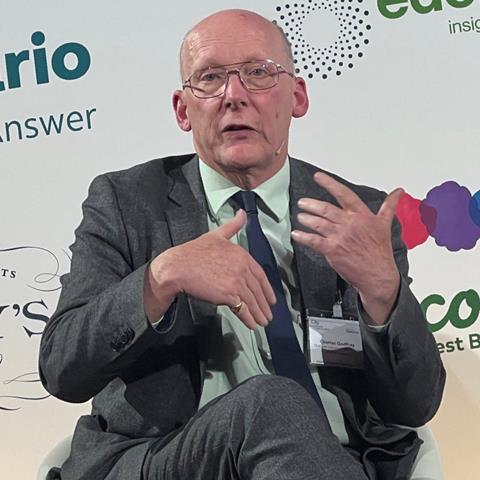 We can be more optimistic now about the challenge of feeding the world than would have seemed possible 30-40 years ago.
This was the upbeat message from respected population biologist Sir Charles Godfray, as he delivered the 22nd City Food & Drink Lecture at London's Guildhall on 15 May.
The former Defra advisor, who is director of Oxford University's Oxford Martin School and its Future of Food programme, said it was "game on" in the fight to feed populations around the world.
"Probably the most extraordinary thing that has happened in my adult intellectual life is that we now know that if we bring people out of poverty; if we educate their children, especially girls; if we provide access to reproductive healthcare, then human fertility, human fecundity reduces," Godfray told an audience of over 650 people in the City of London.
He added that it was "almost certain" the global population would reach a plateau this year, which will have a hugely positive impact on food security.
That said, Godfray made the point that as populations get richer, they generally demand more meat and other foods which require more resources to produce. So demand for food is set to increase by 30-60 per cent this century, depending on the assumptions you make.
'Sustainable intensification'
How should the UK respond? Well, Godfray accepts that as one of the most biodiversity-poor countries in the world, there is argument to say the UK should produce less and rewild more. 
However, his personal opinion is that Britain should try to increase domestic food production – to help meet global demand and to boost its economy.
So-called "cakeism" has fallen out of fashion, he said, especially since Boris Johnson's premiership, "but with astute management of land in the UK, we can actually produce more food, we can have better biodiversity, and we can use the land for other things such as carbon sequestration".
What Godfray believes in is "sustainable intensification" – producing higher yields but doing it sustainably, and this has "all sorts of different components", he said. Genetic intensification, ecological intensification, and market intensification are three of them.
Alongside this, it is important to sacrifice some yields for biodiversity, he stressed, emphasising the need for in-depth research into how to boost biodiversity most effectively.
"The key is to look at the comparative advantage of different parts of the land to produce different things. We should be thinking about the production of both marketable and unmarketable goods. In a small island like Britain we do not have the luxury of any land being unproductive – as long as we define production in its broader sense of delivering public goods as well as private goods."
The health challenge
Godfray was less optimistic about the health challenge facing the UK, and pointed out that the current instance of overweightness and obesity, projected ahead, was "completely unsustainable" for the NHS.
What is more, most of the mechanisms employed to tackle obesity, such as educating consumers, behavioural interventions and promoting exercise, have only proven to have a marginal impact.
If we're serious about tackling obesity, financial incentives and regulation could be the most effective option, he suggested, pointing to the effectiveness of the UK government's Soft Drinks Industry Levy.
This came into effect in 2018 with the aim of helping to reduce the amount of sugar in soft drinks and thereby tackle childhood obesity.
"We [my colleagues and I] thought it wouldn't work because it wasn't consumer-facing, but we had underestimated the agility and the creativity of the soft drinks industry to respond," Godfray told the audience.
The 'sugar tax', as it is more commonly known, is a tiered levy applied to UK-produced or imported soft drinks containing added sugar. 
No levy was placed on soft drinks containing less than 5g of sugar per 100ml; 18p per litre was taxed on soft drinks containing between 5g and 8g of sugar per 100ml; and 24p per litre was taxed on soft drinks containing more than 8g of sugar per 100ml.
In response, the UK soft drinks industry reformulated and adapted its recipes to avoid the higher levels of tax, and importantly, the average sugar content went down.
Supporting healthy choices
Despite concerns to the contrary, this had no impact on company profitability. And consumers tended not to notice, even though the sugar content and taste of the drinks had changed, research showed.
The sugary drinks tax could prove an effective blueprint for future levies on unhealthy products. And two members of the panel that followed Godfray's lecture, namely Greenbank's Sophie Lawrence and Sue Davies of Which?, called for HFSS foods to be the next category taxed by government.
Wilfred Emmanuel-Jones of The Black Farmer strongly disagreed, stressing his firm belief that dietary choices are people's personal responsibility and not to be interfered with by government.
However, Godfray argued that the UK's 'obesogenic landscape' makes it difficult to make healthy food choices, with consumers bombarded by temptation at every turn. It is important to create a "supportive environment" for consumers, he said.
'Major but solvable challenges'
After speaking about climate change and the significant environmental challenges facing food supply chains, as well as the need to stress test the global food system to ensure resilience to future shocks, Godfray moved onto his conclusions.
"There are major but solvable challenges in feeding a global population of 10 billion this century," he said. "We need to face up much more to the health and environmental challenges around food. And the private sector is absolutely critical in this."
He emphasised how impressed he has been by many food companies' ability to grasp some of the big sustainability issues they now face.
"These problems are not going to go away, and those companies that can understand and address them – even if it's difficult now – I firmly believe will have a competitive edge going into the future."


Read More: Global food system faces 'major but solvable challenges'