"Don't run out of steam!" Padma Lakshmi warns at the top of this week's episode of Top Chef: World All-Stars. But you wouldn't blame the six remaining competitors from being tuckered out at this point in the culinary competition. We're eleven episodes in and ten chefs down, and this week's team challenge and subsequent double elimination will pull us into the final stretch of season 20.
Arden Cho on "Partner Track" and Olivia Benson
But first: uh, dishwashers? Yes, only slightly less odd than that Fast & Furious tie-in from a few eps back, Finish Quantum is today's Quickfire sponsor, which is dubiously centered on steam. "I'm just thinking, 'Andrew, what are we going to cook in a dishwasher today?'" Tom Goetter jokes upon seeing guest judge Andrew Wong, the chef-owner of London's A. Wong, the only two-Michelin-starred Chinese restaurant outside Asia. Thankfully, the chefs and the viewers are spared from any SaniWash cooking hijinks; instead, the gist is all about water conservation.
"We want you to give us a dish featuring a steamed element," Padma announces. "But, since we're trying to conserve water, the only water you can use in this challenge must fit into that one pot. That will be the only water that you all will be able to use in this challenge." The winner will take home $10,000 from the detergent brand, with another ten grand donated in their name to the World Wildlife Fund for river conservation efforts.
"This is gonna be really, really tough," Sara worries, before going full Kitchen Mom and equally divvying up the pot of water for all six chefs.
"I steam a lot in my restaurant, I got this," Gabri says. "There's no industry that wastes more water than the cooking industry, so I think it's a good challenge." Amar isn't so confident: "I fry, I saute…I don't steam anything."
This far into the competition, Sara does a full overhaul of her strategy thus far: "Everything I've done this whole season where I'm like, 'Take this food and put your Southern twist on it; I'm gonna totally throw that out the window and use Asian ingredients and see where that gets me," she says of her five-spiced steamed cabbage with tofu puree and steamed scallop. "I'm not happy that I didn't incorporate anything about myself into this dish at all," she adds later.
Amar also is taking a major risk, making steamed and pan-fried pork dumplings for Wong, "the dumpling master." "Did you make a dumpling? Well, that's your own funeral then," Padma quips as Amar serves his plate. Both Sara and Amar's Quickfire risks don't end up paying off. "Your dish didn't necessarily have to be Asian; I feel like you forced it to be Asian," Andrew tells her, and criticizes the dry filling of Amar's gyoza.
On the opposite end of the spectrum, Gabri's untraditional mixiote—swapping out lamb for sole and mussels—is dubbed "just a delicious plate of food" by the guest judge, and Buddha's seafood hot pot with black vinegar and shaoxing sauce is praised by Padma for its "variety, both in flavor and in texture." Buddha wins, making it his third Quickfire victory this season. "That's three! I'm breaking records from my last season," he says happily.
"The battle has only just begun," Padma announces, and that battle is all about Beef Wellington, "one of the most iconic dishes that England has contributed to the world," a filet that's been coated with pate and duxelles, wrapped in puffed pastry, and baked. But they won't have to make just one Welly; they'll have to make three: one with seafood, one with meat, and a dessert option. "Three different Wellingtons…I don't like it," Amar says.
They'll not only be serving our judges trio of Padma, Gail Simmons, and Tom Colicchio, but also guest judge Kirk Westaway (the executive chef of the double-Michelin-starred Jaan by Kirk Westaway in Singapore) and 25 diners, who will be voting each round and whose opinions will be taken into account during final judging. The toques will have three hours to prep and cook at London's historic Tobacco Dock.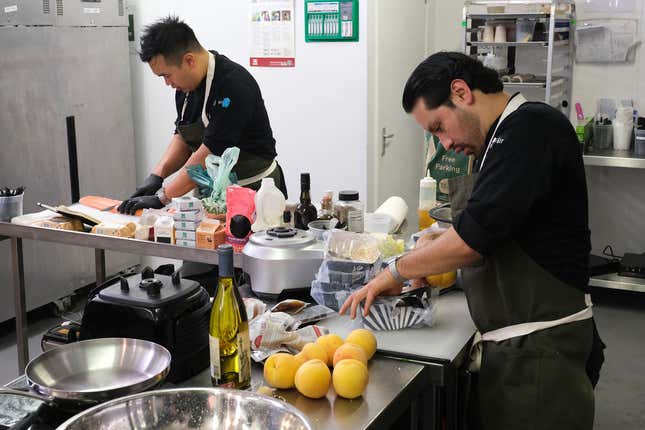 "To serve 25 diners Wellington is very difficult," Tom G. says. "But to serve 25 diners three different kinds of Wellington? There's no way."
To ease some of the pressure, the chefs will be working in pairs: Tom with Ali, Sara with Amar, and Gabri with Buddha. "This is the final team challenge of the season," Padma announces. "And it's an important one because this is a double elimination."
"Man, come on! A double elimination at this stage of the competition? We really need to nail this challenge," Gabri says, who worries that he's not the most experienced at doing Wellingtons. Thankfully for him, his partner Buddha is. Together, they whip up a menu of salmon Wellington with beurre blanc and salmon caviar; a dry-aged beef number with truffle demi-glace and pickled beetroot; and a peach melba Welly with raspberry sorbet and tonka bean custard, though Buddha does have to keep Gabri on place since he's running 15 minutes behind. (Maybe Gabri would have more time if he stopped flirting with the guest judges? "Nice to meet you, chef! You're handsome!" he tells Westaway.)
Sara and Amar are relying on their "big, huge flavors," which they are utilizing for a tuna Wellington with sauce Americaine, a harissa-rubbed lamb version with date and black garlic puree, and an apple pie tres leche dessert with spiced creme anglaise. Team Tom and Ali, however, are keeping their flavors more traditional, with a salmon-prawn Wellington with leek duxelles and cauliflower puree, a classic beef with roasted carrots and red-wine jus, and a roasted apple final course with orange blossom vanilla sauce.
While the challenge tests all of the chefs ("It feels like those Tomb Raider movies when she runs underground and behind her everything falls apart and there's lava everywhere and she's one step away from falling down to it?" Tom says"), it's an especially rough one for Amar and Sara, who realize that their lamb is raw. "Making a Wellington is one of those things…you don't know how good it's gonna be until you open it," Amar worries.
Though the judges appreciate the creativity and the "beautiful Moroccan, North African spices" of their lamb Wellington, that underdone meat puts Sara and Amar in the bottom two, along with Tom and Ali, whose cauliflower puree is under-seasoned and plagued by a gummy texture thanks to too much xanthan gum. That means that Buddha and Gabri are this week's winners based on the strength of their technical work and their "superior" beef Welly.
"Buddha, that's the biggest smile I've seen all season!" Padma proclaims upon their win. "That was the hardest challenge hands-down," he replies. And it fittingly proves to be a tough decision for the judges as well. "One little technical error can be the deciding factor," Sara says and, indeed, it's that lackluster lamb that sends her and Amar home. "This was a once in a lifetime thing to be surrounded by other winners, other runner-ups…it still sucks, it still hurts," she says.
"Making it this far is a blessing," Amar says, though he's quick to point out that it was a victory in Last Chance Kitchen that got him into the final of his own season. "I hope history repeats itself!"
Stray observations
Gabri's Top Chef nickname is officially "El Gatto," due to the number of times he's been in the bottom and survived. Especially catlike was how quickly he raced Supermarket Sweep-style through Whole Foods with only 45 seconds left to get a last-minute ingredient.
Speaking of pets, hooray for another adorable cameo from Buddha's pet pug Kroshka!
We're sad to see Amar go as a solo competitor, but even more so as one-half of this season's best bromance. "Papi, tomorrow, we go against each other but you know that I love you," Ali tells him while they're grocery-shopping. "I love you too," Amar replies, before they embrace in the check-out line. Talk about Whole Foods wholesomeness!
Their bromance isn't the only sweet friendship showcased in this episode. In one clip, Sara is FaceTiming Kelsey Barnard Clark, the winner of Top Chef: Kentucky. "Kelsey is one of my oldest culinary friends, we worked together in New York City well over a decade ago and Kelsey and I competed together in Top Chef 16 in Kentucky. She won, I got second," she explains, with flashback footage rolling of her giving her old buddy a big old cheek smooch upon her victory. "Everyone needs a boost of confidence and to get one from a fellow competitor, it's really nice."


Read More: Top Chef recap: And then there were four