When the dairy-free brand Oatly launched a range of vegan ice-creams, including chocolate fudge and hazelnut swirl, in October 2019, it hoped to entice consumers with flavours described as "unashamedly indulgent".
The range – described by fans as "silky" and "creamy" – was part of what food experts described as a "gold rush" to tap into the vegan market, including "vegfurters", vegan mayonnaise and marbled plant-based steaks. One analysis found nearly a quarter of all food products launched in 2019 were labelled vegan.
But it appears the boom-time for some vegan products may now be over. While Oatly's range of oat drinks enjoys high demand, the Swedish company confirmed last week it was withdrawing its ice-cream tubs from the UK market.
A spokesperson said: "Given a number of our plant-based friends are doing great work on this shelf already, we made the decision to move away from ice-cream tubs in the UK for now."
Oatly's 500ml ice-cream tubs, sold in supermarkets for £4.50, are the latest casualty in the vegan sector. Nestlé announced in March it was withdrawing its plant-based Garden Gourmet and Wunda brands from sale in the UK, saying the products, including a split-pea-based alternative milk drink were "not viable" in current market conditions.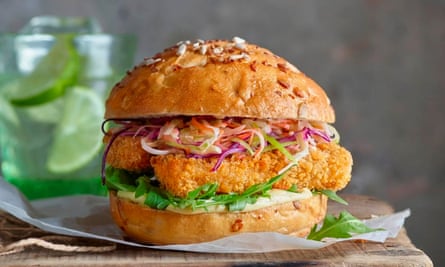 Innocent Drinks, owned by Coca-Cola, announced in March it was discontinuing its dairy-free coconut, almond and hazelnut smoothies after disappointing sales. Sausage maker Heck announced earlier this month it was reducing its range of meat-free products from 10 to just two.
While it is claimed the global vegan market may be as worth as much as £50bn by 2030, sales of many products in the UK have flatlined or fallen. The challenges have been compounded by the cost of living crisis – with vegan products often more expensive than competing meat or dairy products – and an overcrowded market.
Clive Black, a retail analyst at investment group Shore Capital, said the vegan market had been overhyped. He said: "The real market is nowhere as big as some people hoped and some people ramped up. Reality is dawning.
"We looked with some incredulity at the number of companies that were drawn into this space and the amount of shelf space that was given to it in supermarkets. There will be some winners, but the numbers will be relatively small because we've been through a bubble."
There are various figures for the numbers of vegans in the UK, but the Vegan Society estimates it is about 700,000 people, based on surveys showing the proportion of vegans is 1-2% of the UK population.
Many brands will be popular with vegetarians, but these products also need to attract consumers cutting back on meat and dairy. While the sales of vegan products are expected to rise over the long term, retail experts say the increases are not as large or explosive as many firms anticipated.
New figures to be released this week by NIQ (formerly NielsenIQ) reveal that in January this year, when people were encouraged to choose vegan products in "Veganuary", sales of chilled meat alternatives fell 16.8% compared with January 2022 and frozen meat alternatives fell by 13.5%. Plant-based milk alternatives saw growth of just 0.9%, according to the NIQ data.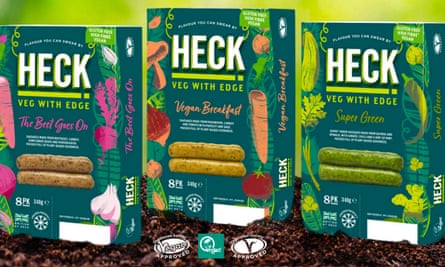 The challenges in the marketplace in the UK and overseas are reflected in values of the leading specialist vegan food manufacturers, which in some cases have plummeted. Shares in meat-free brand Beyond Meat have crashed, down from more than $230 after it went public on the Nasdaq stock exchange in May 2019 to about $11. The meat-free market in the US is described by experts as "stagnating".
Oatly's share price peaked at more than $28 after its initial public offering on the Nasdaq in May 2021, but has since dropped to less than $2, with global sales volumes last year lower than forecast and supply lines adversely affected by the pandemic.
Hamish Renton, managing director of HRA Global, a food and drink consultancy, said despite a correction in the vegan market in the UK, it still offered strong potential for the right products.
He said: "There has been a gold rush followed by a cull. There were too many products on the shelf for the volume of sales."
The Vegan Society said: "The plant-based market is still in its infancy and periods of ebb and flow are to be expected as the industry continues to innovate and the market stabilises.
"The whole market has a huge number of products, having seen an incredible boom in recent years."
It said a drop in sales of plant-based alternatives had not affected all products, with some brands reporting significant increases in sales.
Oatly said it had experienced significant growth in recent years and in the UK, oat drinks were the most popular alternative to milk, with recent new product launches in its popular drink range. The company announced plans in 2021 for its first UK factory in Peterborough and its global revenues increased 18% in the first quarter of this year.
The company said it made the decision to move away from ice-cream tubs in the UK to "prioritise our efforts, marketing and product innovation elsewhere" but the tubs would still be available in a number of overseas markets. It said it would be launching a "soft serve" ice-cream later in the year, available at partner food outlets.


Read More: Has the vegan bubble burst? Sales stagnate in UK as brands withdraw plant-based products