Local restaurant owners in Palo Alto, California are speaking out after the liberal city granted celebrity chef José Andrés an exception to a gas stove ban at his restaurant.
"I wish that they would give us a break. I haven't seen one yet. We're a busy restaurant. We pay our taxes. I don't know what the end result of this is," Rudford's Restaurant owner Jeff Kacha said on "Fox & Friends First" Friday. 
"It's California crazy."
Andrés pushed back on the California gas stove ban for a new restaurant Zaytinya that was scheduled to open in the Stanford Shopping Center in Palo Alto. Simon Property Group (SPG) originally applied to build the restaurant in 2019, receiving local approvals before the city council revised the building codes which required all new buildings to be electric. 
The developer installed a gas line into the building before city officials instructed that the building would have to be updated to the new code. 
CALIFORNIA CITY GIVES CELEBRITY CHEF JOSÉ ANDRÉS AN EXEMPTION FOR HIS RESTAURANT TO USE GAS STOVES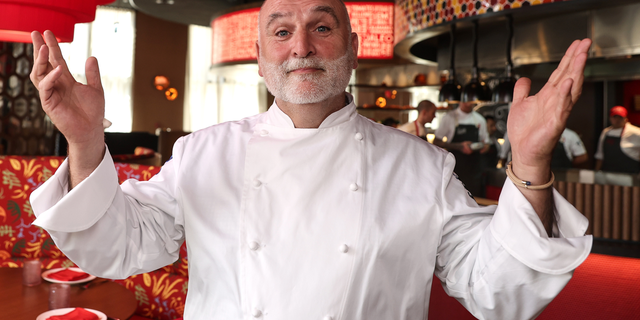 "Without a gas connection and appliances, Zaytinya would be forced to alter its signature five-star menu, which it is unwilling to do. Zaytinya cannot compromise the caliber of its cuisine and reputation," Andrés' attorney said in a statement. 
Jeff and his Rudford's co-owner, Nick Kacha, affirmed concerns outlined by Andrés, saying there are "a lot of thing [that] come into play" with the change from gas to electric stoves. They said the change is worrying many restaurant owners.
It changes the whole dynamic of the restaurant, how we cook, how fast we're able to cook things, the efficiency of the restaurant. There are a lot of things that come into play," he said, adding that costs could go up significantly for restaurants.
"Right now it's $0.48 a term. So what happens when it goes up to $0.80 and we're trying to cook with electricity that's a constant power on and instead of gas that you can turn on and off."
LA TIMES UPSET THAT NEW YORK BEAT CALIFORNIA IN BEING THE FIRST STATE TO RESTRICT GAS STOVES
The city of Palo Alto responded to Andrés by allowing gas service for the "one project," but insisting all other new and remodeled projects would have to comply with electric requirements. 
"Due to the years-long planning effort which started in 2019, three years before the City adopted the all-electric requirement, the City and the Mall have agreed that this one project should be able to proceed with gas service consistent with the long-established project plans.
"Except for this one-off situation, Palo Alto's all-electric requirement is being implemented for all new projects and substantial remodels. Building electrification is critical to reducing our greenhouse gas emissions," the City of Palo Alto's administration wrote. 
"Cross Country" host Lawrence Jones said on "Fox & Friends" that this seems like another instance of the rich and powerful playing by "different rules" than the average person. 
"It's always the rules are just for the average day, folks. But the people that hold wealth and power, they play by different rules. So it just begs the question, do they even believe some of the nonsense that they say they stand for? Because when you see them behind closed doors, they're doing something much different," he said on "Fox & Friends" Friday.
"It's just really strange that any time we hear about something negative when it comes to California when they make these rules, it's always someone that is wealthy or well-known that somehow finds a way to get an exemption."
Both Nick and Jeff said while they support the idea of green energy and protecting the environment, many policies in California, like the gas stove ban, seem like "freewheeling" efforts that haven't been fully considered.
CLICK HERE TO GET THE FOX NEWS APP
"They have some good ideas on how to help the environment and everything. But, they're doing like these Draconian measures and go in so quickly without anything in mind of how people are going to make their businesses survive or how they're going to keep up with the pace," Nick said.
"We need some people that understand economics in our offices so that we can better attain the goals that they're trying to hit."
Fox News' Alexander Hall contributed to this report.


Read More: Gas stove exception for celebrity chef José Andrés rankles local restaurant owners: