Whether you are a longtime fan of Salon's food coverage or a more recent reader, the chances are pretty high that you've seen Tracey Medeiros' recipes. (This is especially if you were looking for recipes that would also get you a little high, since a fair share of our site's recipes about cooking with cannabis come from her book aptly titled "The Art of Cooking with Cannabis.") 
But this month Tracey is back with a new cookbook — her sixth — which is the tenth anniversary edition of "The Vermont Farm Table Cookbook." The book features over a hundred recipes inspired by the picturesque crop and dairy farms of the Green Mountain State and includes rustic-yet-refined classics like wood-fired blueberry pie and Vermont cheddar soup, as well as playful twists on the state's produce, including ramp dumplings and beer-battered fiddleheads. 
I spoke with Tracey briefly this week about her book, how Vermont's foodways are misunderstood, and how local farms are the lifeblood of the state's agricultural industry. Plus, she shared a delicious burrata, strawberry and spinach salad recipe that will have you eating like a Vermont farmer. 
This conversation has been edited lightly for length and clarity.
You and I first connected over your beautiful, thoughtful book about cooking with cannabis, which features recipes inspired by restaurants and chefs all across the country. What was it like returning to a cookbook where the scope is so focused on one particular place?
Thank you so much for acknowledging my book, "The Art of Cooking with Cannabis." It was not only fun to create, but also expanded my knowledge of cannabis.
Vermont has always been ahead of the curve in the area of food and its impact on community wellness. Its farmers and chefs are always striving for excellence by continuously expanding their food horizons. For me, this continual learning process is not only exciting, but educational and fun.
To that end, what was it like returning to this book ten years later? How have you changed as a cook and a writer in that time and how do you think that's reflected in this new edition? 
It was interesting to note the number of folks still working in their area of expertise, as they did 10 years ago. I found it inspiring to see how their businesses had expanded or adapted to meet the changing times. 
"The Vermont Farm Table Cookbook, 10th Anniversary Edition" is my sixth cookbook. Over the last 10 years, I have developed a deeper understanding, and knowledge, of the publishing industry. A good example of this was my influence on the interior design of this cookbook.  The knowledge that I have gained over the last 10 years was instrumental in helping me to do this. Concerning my cooking and writing skills — the more you do it, the better you get!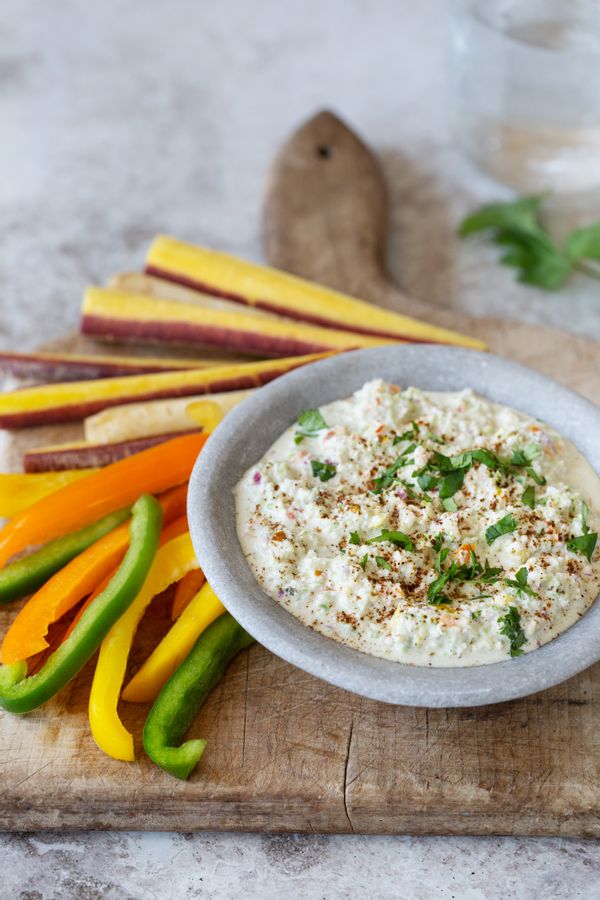 Cotija salsa (From "The Vermont Farm Table Cookbook, 10th Anniversary" by Tracey Medeiros (The Countryman Press, June 2023).)You have written that small, independent farms are the lifeblood of Vermont's agriculture. How did that inform how you originally wrote this book and how you approached this new edition? 
The first edition was a never-ending learning process about the Vermont agricultural community and how and why these folks do what they do. Now in the 10th anniversary edition, I built on this foundation that was started 10 years ago, observing how and why the food community is where it is today.
What misconceptions do you think exist about Vermont's foodways? How does your book confront or subvert those? 
I believe that the biggest misconception about Vermont's foodways is that farming is solely about planting, growing and harvesting. It involves so much more! It is also about passion, commitment and dedication. This cookbook illustrates how our farmers, chefs and food producers are devoted to this. 
We've already shared two really beautiful recipes from this book over at Salon: Your Cotija Salsa and your Summer Fattoush Salad (Lebanese Summer Salad). I've made both of them, and I was really struck by the vibrancy and brightness of both dishes. What is summer cooking like in Vermont? What are some of your favorite recipes from the book that are representative of that season? 
Thank you so much for your kind words concerning the recipes!
Summer cooking in Vermont offers a wonderful variety of in season ingredients. There are no limitations to what you can create. The delightful part of all of this is that everything is fresh and newly picked, as little as just a few hours ago. The farmers markets are overflowing with a bounty of foods that make every chef, and home cook, want to expand their summer recipes.
Summer Fattoush Salad (Tracey Medeiros)Some of my favorite recipes from the book that are representative of summer are: Maplebrook Farm's Burrata Salad with Local Spinach, Strawberries, Basil Pesto, Pistachios, and Aged Balsamic [found below].The Burrata from Maplebrook Farm has a luscious, creamy center. The locally grown strawberries, when in season, are so sweet – making it a delicious dish! You also have the crunch from the pistachios, giving this salad another layer of texture, which is so fabulous! 
Another favorite summer recipe is the Massaged Kale Salad with Asian Peanut Dressing found on pages 46 and 47 in the cookbook. This salad is all about textures and flavors from the sweet juicy peaches to the creamy local feta cheese — it is pure bliss!
Finally, a lot of popular cookbooks focus on entire countries or even continents, which has immense value, of course. But what do you think the benefits of someone picking up a state-specific cookbook are? 
Picking up a state-specific cookbook, such as mine, with a focus on Vermont, which is known as a foodie state, enables the reader to delve deeper into its enduring food legacy. Each contributor has something unique to offer the reader through a variety of engaging profiles and nourishing recipes. 
 Maplebrook Farm's Burrata Salad with Local Spinach, Strawberries, Basil Pesto, Pistachios, and Aged Balsamic
By The Reluctant Panther Inn and Restaurant/Executive Chef Sigal Rocklin
Yields
4 servings, as a light lunch or appetizer
Ingredients
Basil Pesto
Makes 1 3/4 cups 
2 tightly packed cups fresh basil leaves
3 tablespoons raw pine nuts
1/2 cup grated Parmigiano-Reggiano cheese (about 2 ounces)
3 medium garlic cloves, coarsely chopped 
1/2 teaspoon kosher salt 
1/4 teaspoon freshly ground black pepper
1/2 cup extra-virgin olive oil 
Salad  
8 ounces baby spinach, preferably local
2 medium strawberries, hulled, and sliced
2 tablespoons extra-virgin olive oil
1 teaspoon lemon zest
2 teaspoons fresh lemon juice
1/4 teaspoon kosher salt, or to taste 
1/4 teaspoon freshly ground black pepper, or to taste  
2 (2-ounce) balls fresh burrata cheese, cut in half, preferably Maplebrook Farm
1/2 cup shelled pistachios, salted and roasted 
1 to 2 tablespoons aged balsamic vinegar, or to taste 
Kosher salt and freshly ground black pepper to taste  
Directions
To make the basil pesto: Place the basil and pine nuts into the bowl of a food processor and pulse several times.

Add the Parmigiano-Reggiano, garlic, salt, and pepper, then pulse several times more. While the processor is running, slowly add the olive oil in a steady stream until well blended and fairly smooth, scraping down the sides of the bowl as needed. 

To make the salad: In a large bowl, toss together the spinach and strawberries. In a small bowl, whisk together the olive oil, lemon zest and juice, salt, and pepper until well combined. Adjust seasonings with salt and pepper to taste.

Drizzle over the salad, tossing until well coated.

To assemble: Smear the basil pesto onto a platter. Place the salad in the center of a platter. Place the burrata on top.

Scatter the pistachios on and around the salad. Drizzle the balsamic vinegar on top and around the salad. Season with salt and pepper to taste. Serve at once.

 
 If you'd like to get more of Tracey's Vermont farm-inspired recipes, pre-order her cookbook, which is out in early June. 
Read 
the freshest stories from Salon Food
Salon Food writes about stuff we think you'll like. While our editorial team independently selected these products, Salon has affiliate partnerships, so making a purchase through our links may earn us a commission.


Read More: How to eat like a Vermont farmer — starting with this luscious burrata salad