I love cooking. This should be clear in my career choices, the way I spend my evenings (hint: cooking) and the way in which I wax poetic about food.
However — that doesn't mean that I love every aspect of cooking. 
I can't stand deveining shrimp. I'm not fond of prepping mangos. I don't love baking in general. And I abhor turning artichokes.
So, let me present . . . an artichoke pasta dish? Ha! 
It's artichoke season. Obviously, casually prepping a slew of artichokes is probably not on your docket. So, in this recipe, I say grab them already prepped: jars, tins, pint containers form the deli, marinated, un-marinated . . . it's up to you. 
---
Want more great food writing and recipes? Subscribe to Salon Food's newsletter, The Bite.
---
Practically every grocery store will have artichokes in some capacity and because the sauce in this dish is pureed, no one will know is the artichokes in your sauce weren't hand-picked from the supple earth and then lovingly trimmed and turned.
Take the shortcuts, y'all — has Sandra Lee taught us nothing? 
Artichoke pasta with blistered cherry tomatoes and lemon-artichoke bread crumbs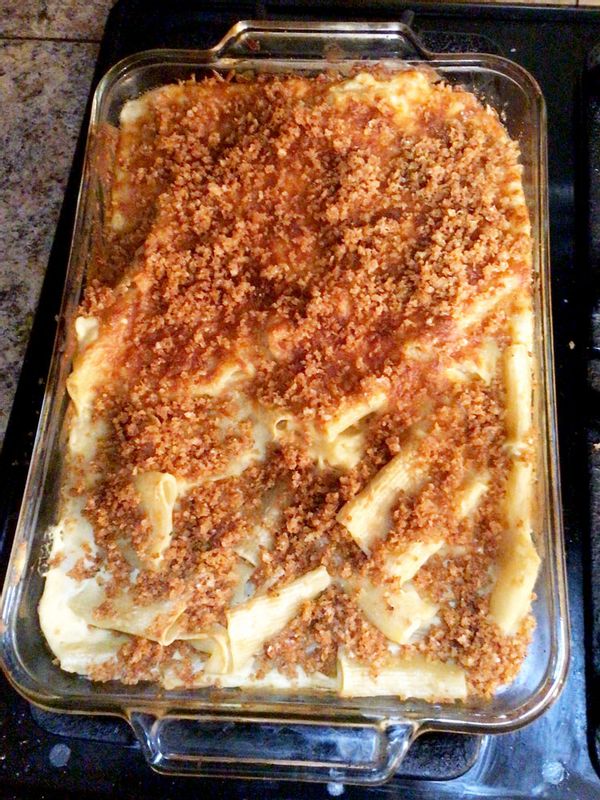 Abbondanza: artichoke cream pasta (Michael La Corte)
Ingredients
20 to 30 ounces artichoke hearts, marinated or plain* (if using marinated hearts, reserve about 2 tablespoons of drained marinade) 
1 fennel bulb, cored and thinly sliced
1 shallot, peeled and thinly sliced
3 garlic cloves, peeled
Enough stock, water, broth to cover vegetables*
1/4 cup heavy cream
Olive oil
1 container cherry tomatoes*
1 stick unsalted butter, divided
3 to 4 tablespoons all-purpose flour
1 pint whole milk, room temperature
Dash of freshly ground nutmeg
Dash of dry mustard
Kosher salt
Freshly ground black pepper
1 pound pasta of your choosing*
1 cup shredded mozzarella
1/2 cup grated Parmesan, divided 
3 lemons, divided
1 cup panko bread crumbs
Directions
Preheat oven to 400 degrees Fahrenheit.
In a large, deep pot over medium heat, combine artichoke, fennel, shallot, garlic and enough cooking liquid to cover. Add cream. Cook for 20 minutes or until all vegetables are tender.
Using a slotted spoon, transfer vegetables to a VitaMix or blender and blend, adding cooking liquid until desired consistency is reached. I kept mine quite thick. Set aside.
Toss tomatoes, olive oil and salt on a sheet tray. Cook until the skins have blistered, about 25 minutes. Remove to cool and drizzle with the juice of 1/2 lemon. 
As vegetables and tomatoes cook, add butter to a saucepan over medium-low heat. 
Once melted, add flour, whisk and cook until lightly "toasty" and fragrant, about 3 minutes.
Gradually, while whisking, add milk in small increments, waiting for it to combine with the roux and thick slightly before adding more. Repeat until all milk has been added.
Add nutmeg, salt, pepper and mustard. Whisk well and cook for another 5 minutes or until the Bechamel is considerably thickened and coats the back of a spoon. 
Combine artichoke puree and Bechamel, stirring gently, until well-blended and homogenous. Taste for seasoning (it shouldn't need much at all, especially if you used marinated artichokes).
In a large pot of boiling water, cook pasta according to package directions. Drain. 
In a large casserole dish, combine pasta, blistered tomatoes, artichoke Bechamel, 1/4 of the mozzarella, 1/2 of the Parmesan and the juice of the remaining 1/2 lemon. 
Transfer to oven and cook until cheesy is melted and dish is bubbling, about 20 minutes. Broil for no more than 3 to 4 minutes. 
As the pasta cooks in the oven, combine reserved artichoke marinade with remaining butter in a shallow pan over medium-low heat. Add panko and the zest of 1 lemon, stir well and cook for about 5 to 7 minutes, stirring continuously, until browned and crisped. Remove to a bowl and add remaining Parmesan and a touch of salt. Toss well. 
Top artichoke pasta with bread crumbs and another squeeze of lemon juice and serve.
---
Cook's Notes
-I used a mix of plain and marinated hearts, but I'd try to drain the marinade as much as possible. Some canned or tinned artichokes can have a "tin-ny" flavor and some marinades can be very overwhelming, so just be mindful when shopping and prepping.
-I used Better than Bouillon turkey base. 
-I opted for paccheri, but any short or tube pasta should work here. I wouldn't advise the use of a long, ribbon pasta in this dish.
-I generally use cherry and grape tomatoes interchangeably. 
Read more
about this topic


Read More: This creamy (yet crispy) artichoke pasta will become your family's new favorite go-to