When you think of the word "apron," you probably think "mom," followed quickly by "frilly." Let us show you how misguided this is and re-introduce you to the simple, timeless, and effectively made kitchen accessory you should never be without. Helt Studio, an up-and-coming chef's apparel company based out of Los Angeles, is devoted to creating high-quality, efficient, and safe workwear that can handle the rigors of any kitchen, art studio, or garden. Their take on the humble apron (and they have several, depending on your needs and personal style) will show you that it's time to kiss the novelty "Quit Grillin' Me!" apron goodbye and say hello to Helt.
Safety
It turns out the village blacksmith, baker, and candlestick maker all had the right idea when they donned protective clothing for work. Cooking, baking, barbecuing, and tending bar is messy work, with much splattering, splashing, and potential for burns. Helt aprons are thick, protective, and some are even water-repellent. They're also well-suited to messy work such as pottery, painting, gardening, and flower arranging. Protecting your skin is just smart; protecting your clothes means they last longer, saving you money and trouble.
Durability
Everyone knows professional kitchen tools and workwear are a cut above what the rest of us mere mortals typically buy. We're used to whisks that need replacing and measuring cups with numbers that always seem to be wearing off. Consider Helt Studio an invitation to the big leagues. Each apron is designed with loving and thoughtful care and is ethically made in Los Angeles, California. The Burgundy Red apron is made of Japanese canvas and is said to "age like a fine wine," conforming to your body with time and repeated use. Aprons at Helt range from $65 to $85, most hovering at the $75 mark. This could be considered pricey, but there's no substitute for quality and ethical sourcing. With proper care (an occasional wash in cold water, and they do mean cold), your apron will serve you loyally and well for years to come.
Briquette Bib apron by Helt Studio
Pockets
You may laugh, but there's nothing worse than running around looking for lost items, nor anything better than having them on hand. As you can see, the Helt Studio apron comes equipped with various deep, handy pockets to hold everything from your phone to a pen to a candy thermometer. The Burgundy Red apron we tried out has an inner pocket nestled in a larger one, should you want to separate two items. Helt also offers personalized embroidery, making a stylish apron even more giftable. May we suggest "#1 POCKET FAN"?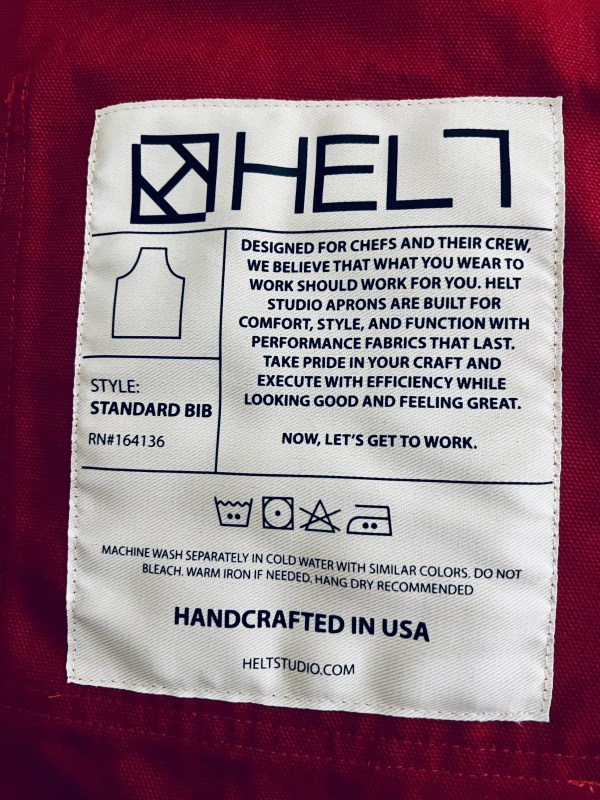 Once you've embraced #ApronLife, there will be no going back. When you've securely placed the 100% cotton strap around your neck and tied your apron, you and everyone in your household (and the delivery driver, the neighbor, and his dog) will know you mean business. Perhaps your business will be cooking one day and preparing for a garage deep-clean the next. Whatever you tackle, Helt Studio is there to help you do it stylishly and safely.
Editors' Recommendations


Read More: We love this high-quality chef's apron