Breezing past a bakery just before closing time to pick up cut-priced loaves has long been a thrifty-living hack. But it's a time-consuming process that doesn't always bring home the bread.
In the UK and 16 other countries, there's an easier way: Too Good to Go. The app allows consumers to buy a "surprise bag" that contains food towards the end of its shelf life at a discounted rate. Restaurants and cafes can also use the app to sell ready-made meals, with time slots for customers to drop by and collect them.
In the first half of 2022, the app was ranked alongside McDonald's and Uber Eats in the top 10 of food apps downloaded worldwide.
Too Good to Go is yet to launch in Australia, but co-founder Jamie Crummie credits the sight of 150-litre bins piled with food, while working in the events industry in Brisbane, as a point of inspiration for the business. That was 10 years ago. At the time, the British businessman was working part-time while studying law in Australia.
"As someone who likes to challenge, I thought, 'Could this food be redistributed? Could it be recycled?' As far as I could see, this food was just going to waste."
Crummie has dabbled in simply fishing food out of the bin, but he was cognisant that this practice isn't for everyone.
It was at a human rights event in Britain the following year, which was catered for by dumpster divers, where he twigged that the market for "this amazing spread of food" was larger than the proportion of the population willing to fish through bins.
He thought about his mother – a long-time activist, who would bring him along to picket lines as a child – as an example of someone who would relish the opportunity to live more sustainably.
"[I got] thinking of how we can get this food to people before it hits the bin in the first instance."
Too Good to Go launched in the UK in 2015. It claims to have rescued more than 230m meals from going to waste, and saved 592,000 tonnes of CO2 from being emitted into the atmosphere.
Crummie calls food waste "one of the world's dumbest problems", saying humans waste about 40% of the food we produce. It's also responsible for 8-10% of the world's carbon emissions. If food waste were a country, it would be the world's third-largest emitter behind the US and China.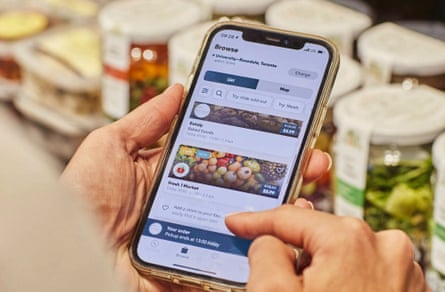 While Too Good To Go is a for-profit business, Crummie says the company's mission is "very much about democratising accessibility to food and accessibility to a sustainable lifestyle".
In 2021, the company partnered with brands including PepsiCo and Nestlé on a campaign that encouraged consumers to "look, smell, taste, don't waste" – rather than blindly following "best before" labels.
"I've yet to meet somebody who throws away food with a smile on their face," Crummie says.