Being the national team chef at a World Cup is about much more than food. Brazilian Vini Capovilla, head chef for the Matildas, leads a team that prepares multiple meals a day for 50-plus players, coaches and staff. In his fifth World Cup for an Australian national team (Capovilla has cooked for both the Socceroos and the Matildas since 2014), the culinary guru says he brings a holistic perspective to the role.
"When I joined, I thought it was all about performance, the maximum nutrition to accomplish performance," says Capovilla. "After a few competitions, I learned that there's much more to the role. Of course nutrition is key, but the wellbeing of players (and) the wellness that a meal can bring, is key."
There can be a tension, the chef admits, between maximum nutrition and maximum wellbeing, particularly now after seven weeks in camp. "Now is the most important time (but) it's a fine tune, you have to read their minds," Capovilla says. "How can we make everyone happy? So all these little details, you have to be very smart. I'm focusing on the service of the meals, but at the same time I have to be focused on their reactions, because that will guide me on the next day."
Capovilla has a few aces up his sleeve. The chef says the Matildas love avocados – it's one of the ingredients he goes through quickest. "Avocado is a hit for the girls," he chuckles. "And berries – they love their blueberries, raspberries." Living up to Australian stereotypes, the team also prioritises coffee – they have their own in-camp barista, Alexia Ralevski, who joined Football Australia last year for the Men's World Cup in Qatar (inspired by the Australian Olympic Committee, who brought a barista to Tokyo).
"That is part of creating this beautiful environment for them – I think coffee is key for the girls right now," says Capovilla. "I know the players are tired, they have rough routines. But the barista with her smile, her coffee, she changes everyone's faces."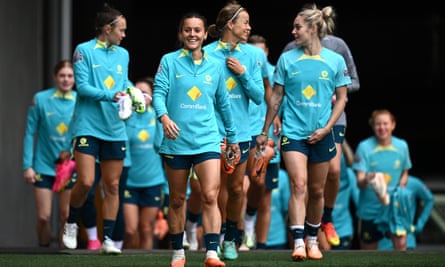 The chef also makes sure the Matildas get to enjoy their favourite culinary event at least once a fortnight. "They love their Mexican night," he says. "We make some nachos bowls, a beautiful chilli con carne, some quesadillas, some fajitas. I know they enjoy."
It's these little touches that give Capovilla most satisfaction. "Even though I love football, of course, I don't do this for the football anymore," he says. "I do this to see a smile on a player's face, understanding the little percentages that we affect when they're performing well. This is what's moving us nowadays, player wellbeing. Their smile is the fuel for us."
Capovilla has been in the role since he joined ahead of the 2014 Men's World Cup in Brazil. With a degree in biology and culinary training, it was actually Capovilla's language skills – he's from Brazil, lives in Spain and also speaks Italian – that first landed him the job. "The team was trying to find someone who could easily dialogue between the medical team, the players and our kitchen in Brazil at the time," he says. He has since pursued qualifications in sports nutrition to ensure he can offer the best to the team.
In that time, Capovilla has worked with a variety of national team bosses. "Bert van Marwijk was the one that was very keen for me to create an environment that was more holistic," he says. "Ange Postecoglou would give me a lot [latitude] – once he started trusting my work, it was just: 'Do what you want to do.' Tony Gustavsson wants me to always be one step ahead."