INSPECTIONS:


The agency found incorrectly labeled products at 26 stores, most of which had not listed the amounts of calories or sugar or had used false figures
By Lee I-chia / Staff reporter
Inspectors found that frozen desserts and iced beverages at six chain stores contained pathogenic Escherichia coli (E. coli) in excess of the maximum acceptable level, while items at 26 stores were mislabeled, the Food and Drug Administration (FDA) said yesterday.
The FDA said it collaborated with local health departments to inspect freshly made frozen desserts and iced beverages at fast food chain stores, beverage shops, herbal tea shops and convenience stores.
Their food business license, mandatory beverage labeling and related documents were inspected, as well as whether they met the standards of the good hygiene practice for food and the Act Governing Food Safety and Sanitation (食品安全衛生管理法).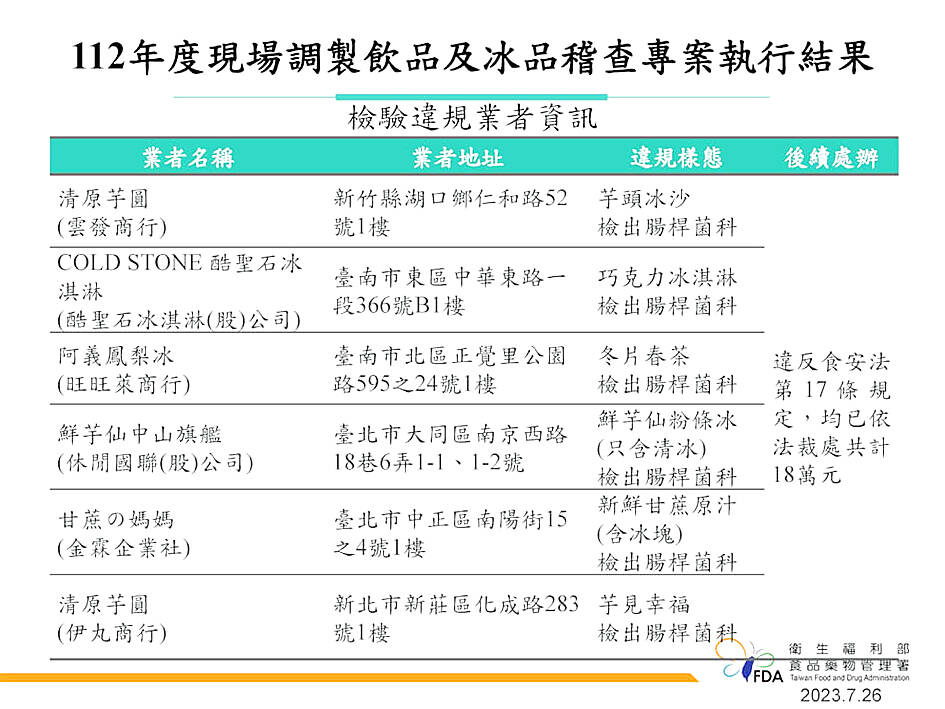 Photo courtesy of FDA
Samples of freshly made beverages, ice cubes, frozen desserts, ice cream and cooked toppings were collected and tested according to food hygiene standards, and raw materials were tested for food additives.
FDA Deputy Director Lin Chin-fu (林金富) said that 408 items from 371 stores were inspected.
Those with flaws were given time to improve and have all passed reinspection, Lin said.
However, items from six beverage or ice cream chain stores failed to meet hygiene standards in the reinspection and were found to have E. coli in excess of the maximum acceptable level, he said.
The six shops are Taro Boba's (清原芋圓) Hukou Renhe Branch in Hsinchu County, Cold Stone Creamery's branch in TS Mall in Tainan, A Yi Pineapple Ice's (阿義鳳梨冰) Tainan Park Branch in Tainan, MeetFresh's (鮮芋仙) Chungshan Flagship store in Taipei, Sugarcane Mama's (甘蔗?媽媽) Taipei Nanyang Branch in Taipei, and Taro Boba's Sinjhuang Huacheng Branch in New Taipei City.
The FDA is publicizing the test results because the chain stores are well-known brands and they failed the reinspection, Lin said.
FDA Southern Center Director Wei Jen-ting (魏任廷) said the six shops would each be fined NT$30,000 (US$960).
Lin said that most of the 26 stores with labeling problems failed to disclose or listed the incorrect amounts of added sugar or calories in their beverages, while some lacked or listed the incorrect caffiene content and some failed to disclose the country of origin of their tea or coffee.
Ten of the stores had listed the amount of added sugar, caffeine and calories of their beverages according to regulations, but testing found them to be incorrect, Wei said.
One shop had labeled a coffee product as "yellow" — containing 100mg to 200mg of caffeine — but it actually contained 495mg, he said.
Another serious case was a shop that labeled a lemon black tea product as containing the equivalent of two sugar cubes and having a total of 192 calories, but it was tested and contained the equivalent of 12 sugar cubes and a total of 288 calories, he said.
The FDA said chain beverage shops, convenience stores and fast-food restaurants that fail to label their freshly made beverages can be fined NT$30,000 to NT$3 million, while those that falsely label their products can be fined NT$40,000 to NT$4 million under the Act Governing Food Safety and Sanitation.
Comments will be moderated. Keep comments relevant to the article. Remarks containing abusive and obscene language, personal attacks of any kind or promotion will be removed and the user banned. Final decision will be at the discretion of the Taipei Times.


Read More: FDA lists beverage, dessert stores found with 'E. coli' – Taipei Times