When El Bulli was open and widely considered the best restaurant in the world (and certainly the toughest to get into), chef Ferran Adria only served diners six months out of the year. The godfather of molecular gastronomy closed for the other six months to work in his laboratory, developing and testing new ideas so that each year's season was better than the last.
When I managed a reservation (a Saturday night, no less!) it was against fierce competition. They took bookings one day per year, and it took them a month or two to process e-mail requests since the restaurant received on the order of 500 requests per table.
Eventually Adria faced the John Stuart Mill problem. Mill, who would later become known as one of the great philosophers, contemplated suicide early on because by age 18 he'd accomplished all of the life goals he set out for himself. Adria was already on top of the top, and unlike so many celebrity chefs directed the kitchen himself every night of service. He had nothing left to accomplish, and closed his restaurant.
Ironically El Bulli is said to have lost money. There were as many kitchen staff as diners on a given night. The food cost was substantial. And Adria was successful enough that he didn't need to profit off of his restaurant, so while not inexpensive (around 250 euros per guest) it wasn't as costly as many Michelin three-star restaurants, though he could have filled the dining room each night charging several times as much. He said, "I don't cook for millionaires." It was a passion project, about sharing his scientific approach to food.
What I've realized is that the restaurants that have most impressed me are headed by chefs who are constantly driving for improvement. They aren't churning out the same meal to guests, month after month and year after year. They're constantly experimenting, learning, and pushing themselves to higher levels.
I'm very careful about recommending restaurants. I pride myself on only recommending unique places that over-deliver.
I'm regularly told by readers that when I do recommend a place, that it's spot-on. And I don't think anyone has gone to a place I've recommended and told me they were disappointed. A given restaurant may not suit everyone's tastes, but hopefully I am specific enough about the high and low points that the reader can determine if it's something that they'll love – and at a minimum they'll appreciate the drive and commitment to quality that the place embodies.
And that's true from fine dining restaurants to places tucked inside of strip malls to food trucks.
Nowhere have I recommended as often as Elephant Jumps in Merrifield, Virginia. When I first shared them a dozen years ago they were producing very good Thai staples. But their vision didn't stop there, and within a few years they had introduced traditional local dishes and expanded their repertoire. If you're in D.C. or Northern Virginia, you should go. You should order off of the specials board. Or just ask the owner what you should have, "what is best?"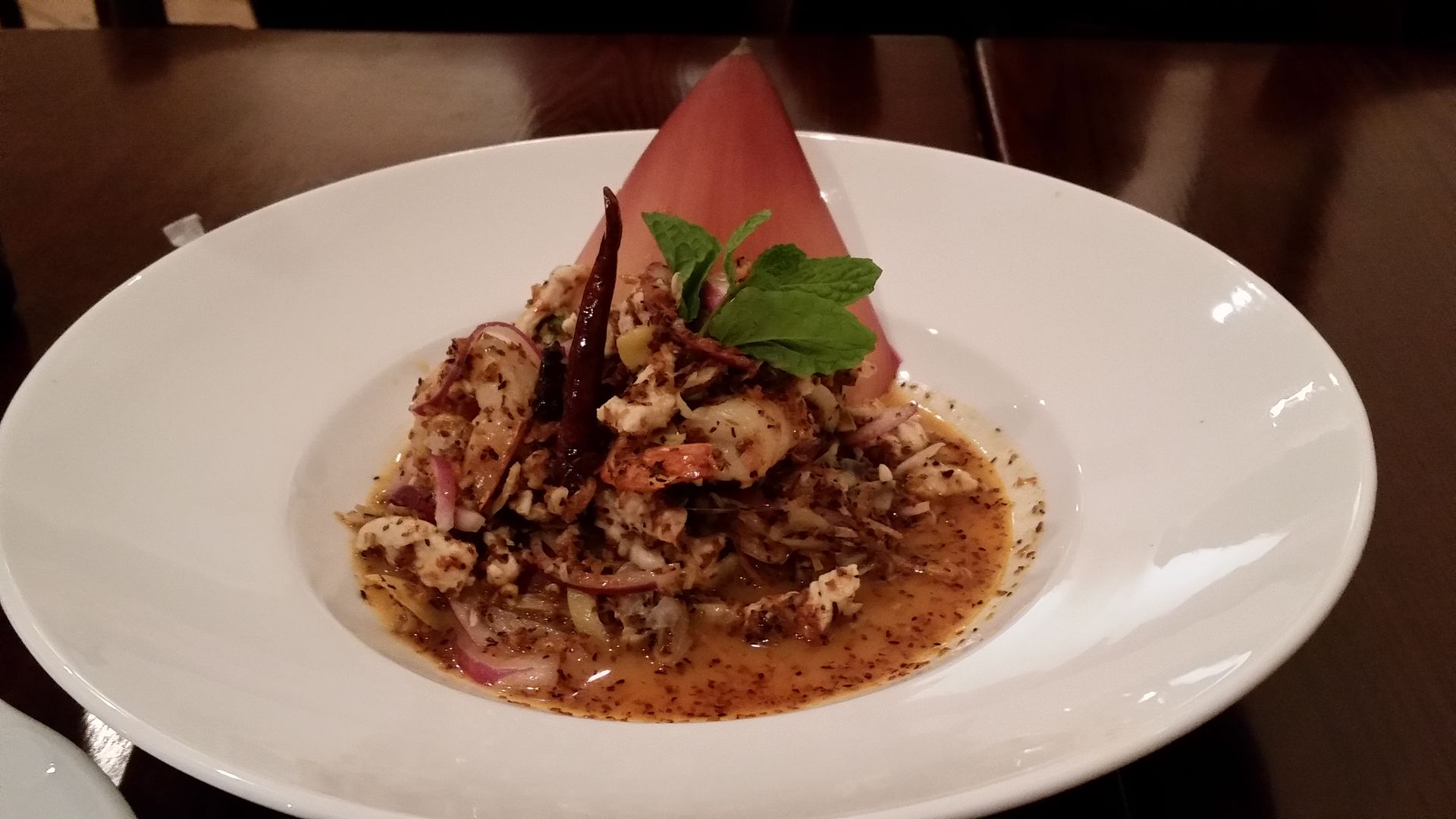 More than anything I love commitment to a craft, to improve, and to deliver quality at increasingly high levels. And that's why I have such a soft spot for Austin sushi restaurant Tsuke Edomae: Chef Michael Che shut down his restaurant for more than six month to go study in Japan and work under Hiroyuki Sato at at Hakkoku. In the process he developed supplier connections and now gets his fish from the same purveyors as Hakkoku – and Sushi Saito.
I reviewed his restaurant before, prior to his working in a Michelin-starred Ginza sushi restaurant, after he'd taken over the space previously occupied by Chicago sushi star Otto Phan of Kyoten. The restaurant is now more expensive ($135 per person vs. $95) but well worth it. The fish is better, and more generous. He no longer does two seatings a night. Instead it's a three hour affair of outstanding fresh fish, the same fish you'd get at Hakkoku. Che has become a licensed importer in his own right, no longer having to go through distributors. He's already planning his next extended return to Japan.
And can I tell you how much I enjoy monkfish liver?
In all, I had 24 items throughout the meal, two of which were optional add-ons. He's doing two different kinds of tomago, including a brûléed tomago paired with Merry Monarch's ice cream. And he's sourcing fantastic uni (though if anyone knows a place in the States that serves yellow, male, uni please let me know this).
I'm excited to see the direction that Chef Che goes with Tsuke Edomae. Right now he's offering a sushi experience that follows in the footsteps of his Tokyo master. He'll continue to build his skills and his confidence. He is a one-man show behind the sushi bar. Even Jiro's eldest son has apprentices working beside him. And so he slices half a dozen kinds of fish at a time for service rather than serving it immediately once it's cut.
He has room to continue to grow, but that's also what's exciting and a reason to keep going back, to watch how someone truly committed to his craft evolves.
No one exemplifies the relentless pursuit of perfection more than Jiro Ono, made world famous by the film Jiro Dreams Of Sushi. Jiro's eldest son has told me about growing up in a household where they did not speak at meals, because it was time to appreciate the food. That's not Songtham Pinyolaksana of Elephant Jumps (whose strip mall establishment now ranks at #19, above most fine dining, in the overall Washingtonian rankings) or Chef Michael Che. But Tsuke Edomae has gone from being open four nights a week to six, and on the seventh Chef Che works with fish he's imported.
This eight seat omakase restaurant is the toughest reservation in Austin. He'll release a couple of months of bookings at a time, and they will be snapped up in minutes. Last year I learned that Tsuke Edomae was the toughest reservation in the country based on Tock waitlist, and the place has become much better since then.
More From View from the Wing


Read More: How A Restaurant Becomes Truly Great: Three Examples, At Very Different Stages – View