Vitamix is often seen as the gold standard for blenders. Vitamix blenders are undeniably excellent kitchen workhorses used in restaurants worldwide and now at Costco stores everywhere. But what about the premium at-home stalwart Breville brand – how does it stack up to Vitamix?
Breville isn't known for its blenders. It's a brand many associate with countertop convection ovens and coffee machines. Recently, Breville asked The Manual to give its best blender a shot, so we decided to compare it to the brand most people view as best.
We tested blenders each brand deems fit for commercial use, but this doesn't jade the comparison. Down the respective product lines, Breville and Vitamix have similarly specced models. We aimed to give the blenders a thorough run-through of the most common tasks and one task just not meant for blenders.
Breville Super Q Pro
1800 Watts
2.4 horsepower
68-ounce jug
Vitamix Vita Prep 3
1800 Watts
Three horsepower
64-ounce jug
The only difference on the spec sheet is that the Vitamix has a three-horsepower motor. There are plenty of other bells and whistles we could add, sure, but we're focusing on the blender as a blender when discussing specs. And these two blenders are reasonably equal.
Breville claims its motor has "the highest possible motor rating" with a 186 miles per hour tip speed for "Fast texture results." That's a fancy way to say Breville is asserting its motor – while technically underpowered on paper – makes better use of what it has to provide better results.
The Vitamix track record can't be denied.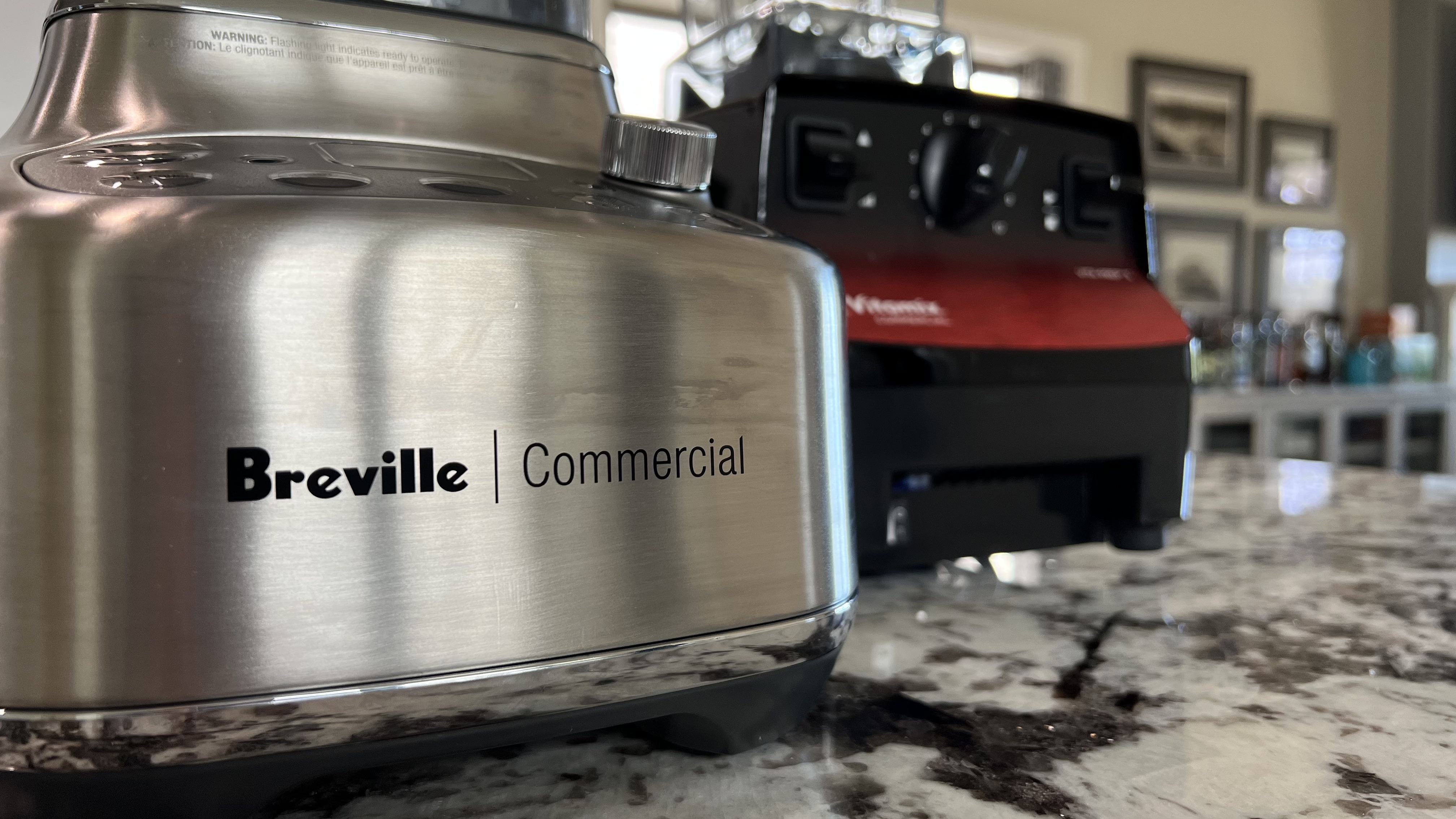 Breville Super Q Pro
It's stylish. This blender looks incredible on the counter. Brushed stainless steel is classy, adding a pop of style to any kitchen.
You get two blender jugs. Breville packages a second jug in the box, which is excellent for back-to-back blending projects.
The lid seal takes time to dry. The lid seal is great, but we don't advise putting it back on the jug for storage before it dries. And air drying is best.
The lid stays on. The lid and seal are strong. Really strong. More than once, I felt like I might break the lid getting it off.
The lid pour spout is great. The central lid spout, which can be removed to drizzle oil in or, when using the tamper, locks into place with a pleasant little click. It's a well-designed feature.
Cleaning mode – we can't say enough. Add soap and water, put the jug on the base, and press the "Clean" button. It seems simple, but this is a triumph from Breville. All other blenders we've tested require you to clean the jug manually by slowly ramping up the speed and watching the time. Walking away to clean or sauté some veggies during a cleaning cycle is terrific.
Cord storage could be better. We love the long cord, but there's nowhere to tuck it away.
The tamper and scraper have no home. Yes, you get a tamper AND a scraper with the blender, but they have to live somewhere. We'd be happier if the base had some sort of holster for them.
The interface is incredible. We were dubious of buttons, a dial, and a screen. We are wrong. We find ourselves using the button presets often, and the screen-and-dial is great for manually controlling the blender. Instead of a 1-10 speed rating, we prefer Breville's text-based explanation for what speed you're on.
It won't operate without a jug attached. It's just a nice little safety feature Vitamix doesn't offer.
The timer feature is incredible. We like the ability to set a countdown timer. This is great when multitasking, especially when the possibility of over-blending something is real.
Vitamix Vita Prep 3
It's a Vitamix. The brand is beloved, and the products are always great. The Vitamix track record can't be denied.
You get one jug. We've used Vitamix for a long time and are always on the hunt for a second jug on a great sale. Vitamix should give you two.
The interface is too simple. We know Vitamix has blending stuff down cold, but the design leaves much to be desired. We want Vitamix to create something nicer for a $700 blender. They've chosen to focus on power over design, but it's starting to lose its luster.
It's tall. The blender jug on the Vitamix is several inches taller than the Breville jug, which also contributes to the overall height of the blender.
It's repairable. Most restaurant supply stores can service Vitamix blenders. That's an overlooked plus.
It's loud. Three full horsepower sure does cause a racket.
The overall design needs refinement. Again, Vitamix hasn't taken meaningful steps forward with its design. It looks clunky, the red and black fascia is ugly, and the jug doesn't look like it was considered in the design.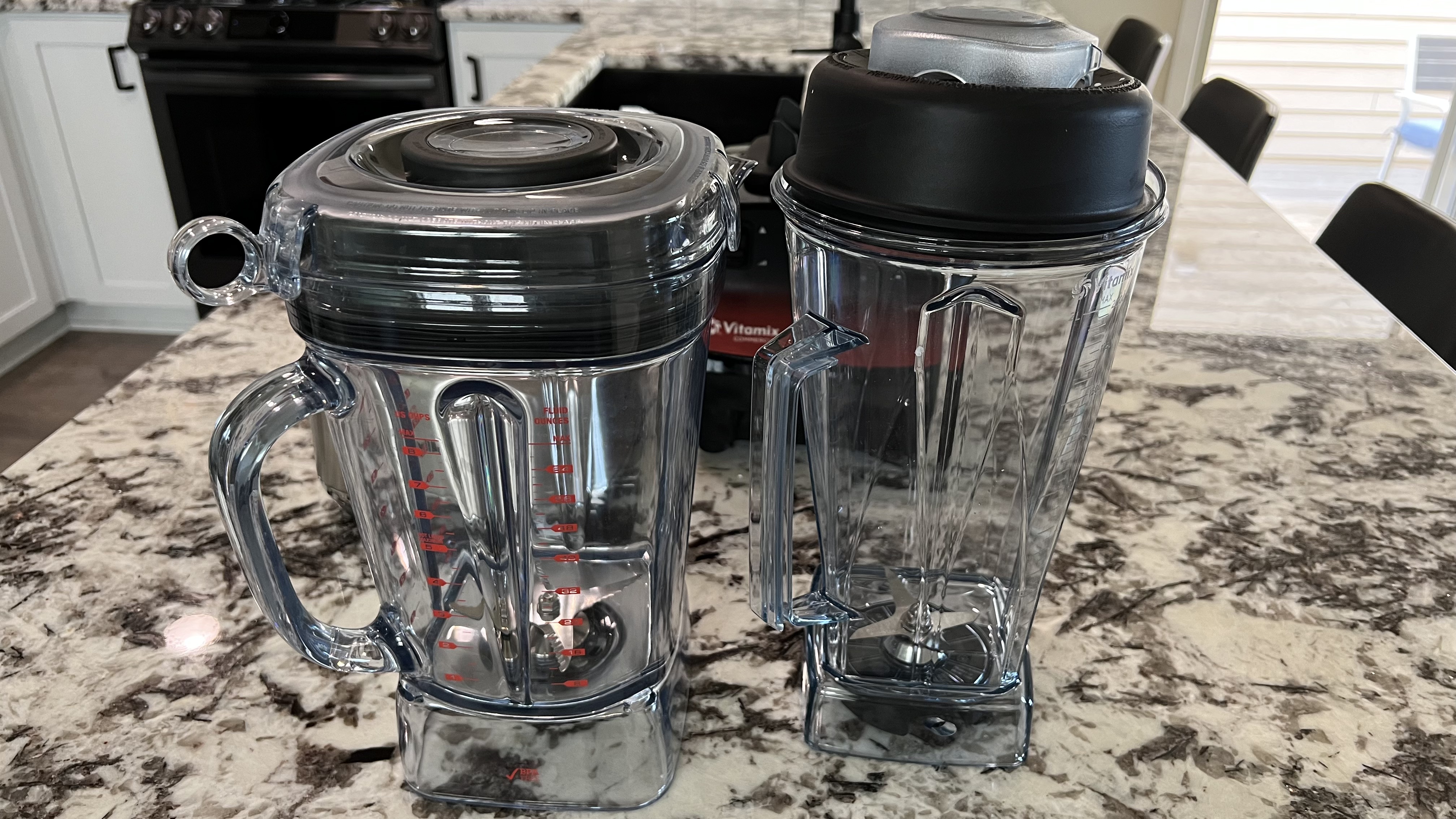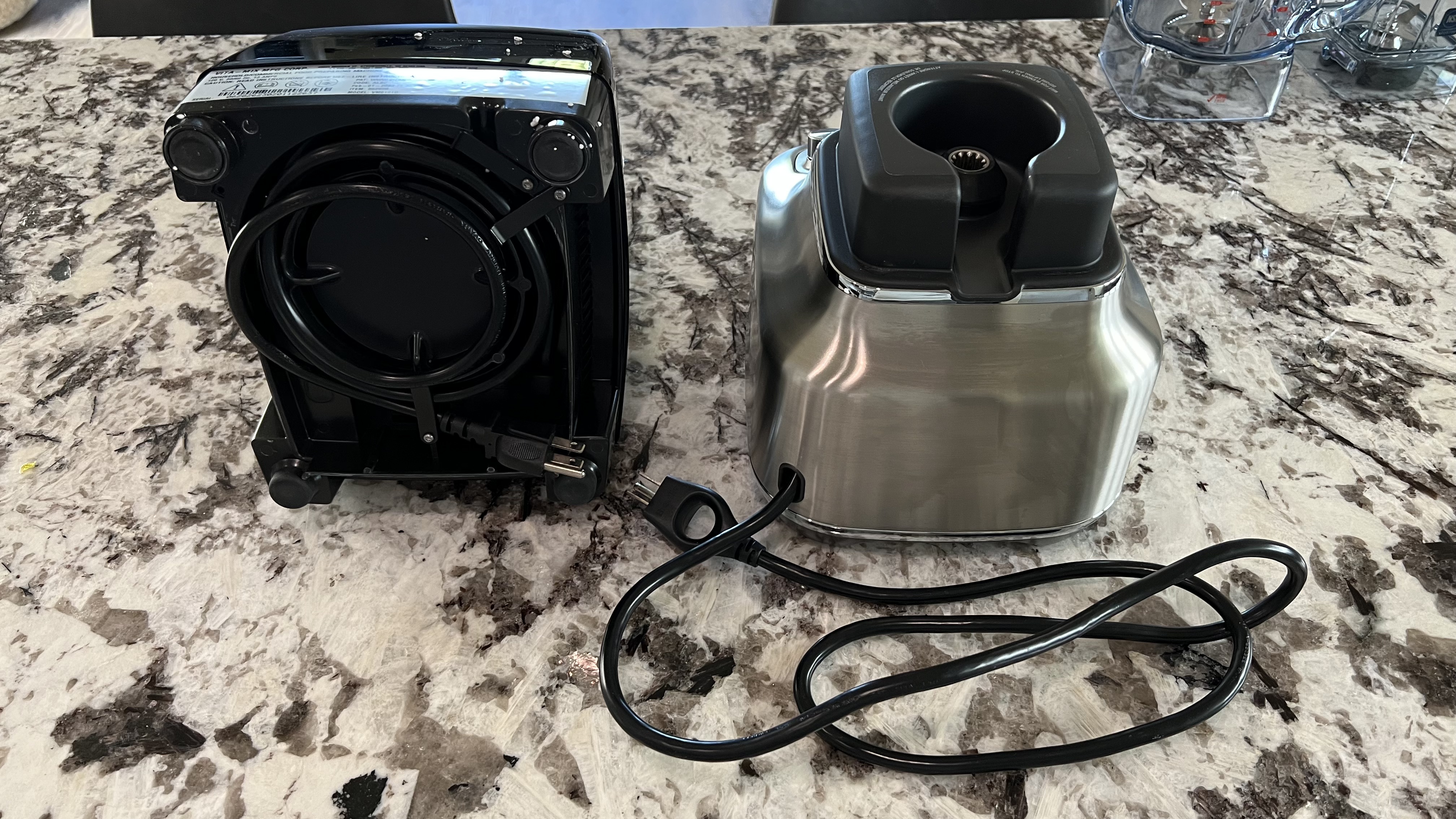 What is a blender, really? It's a motor that spins blades that demolish food inside a jug.
Both of these blenders do the basics exceptionally well. They're powerful and chop food to death. Awesome.
There are differences, though. We'll start with the motors. While the Vitamix is technically more powerful, it's a lot louder. Breville has "noise suppression technology" in its Super Q Pro, which probably means there's dampening material in the motor housing and a quiet fan. Whatever Breville is doing, it works.
A motor only shines when the jug and blades are well-designed. Breville wins here, too. Both brands have blades built into the jug, but Breville's has a broader base and a seemingly better under-blade design. We found unincorporated food under the Vitamix blades, a problem we didn't encounter with the Breville Super Q Pro.
The Super Q Pro's jug is also smoother. Both are BPA-free plastic, but Breville's is smoother.
The Breville may be underpowered on paper, but we found it took less time to achieve the same results. For example, we roasted some cubed butternut squash and split the roasted squash between the blenders with the same volume of chicken stock to make a sauce or soup base. We put both blenders at the same speed setting and started them. The Breville gave us a silky smooth sauce in about 25 seconds. The Vitamix went for 40 seconds before the sauce was ready.
15 seconds isn't a big deal, but it's indicative that Breville's overall design is better.
Breville gives you a tamper and a "scraper," which is a tamper that's also a spatula. The scraper is oddly handy as it reaches the sides of the blender jug so you can slide food back toward the blades. This came in handy with our heavy-duty test: peanut butter.
The ultimate test: Peanut butter
Peanut butter is an item all recipes will tell you to make in a food processor because a food processor has more room and larger blades. And peanut butter gets sticky and gooey. You want more space for the peanuts to travel in, larger blades to turn the nuts into crumbs, and then a sauce. Food processors won't give you smooth peanut butter. And this is a test, so let's push these blenders to their limits, right?
We added the same volume of peanuts and peanut oil to each blender's jug, started them on low to chop the nuts, then slowly increased the speeds, stopping to scrape down the sides of the jugs as needed. Once the nuts were finely chopped and turned into something resembling a sauce, we kept the blenders at a consistent speed.
The Breville scraper came in handy here. We could slide unchopped nuts back toward the blades to incorporate them. While the fan kicked on, the Breville didn't waver, and we ended up with some smooth peanut butter in about 90 seconds.
Vitamix quit on us. The blender overheated about a minute in and stopped. After it cooled down, we restarted the process, and the results were just as good, but it took a lot more work. The lack of a scraper didn't do Vitamix justice, and the overheating troubles us.
Anything the Vitamix Vita-Prep 3 does, the Breville Super Q Pro does better.
The more powerful motor didn't help the Vitamix overcome Breville's thoughtful design. We were initially drawn to the Vitamix switches-and-dial interface, but Breville's buttons won us over, too. Vitamix offers something similar on its A3500 blender. Still, it's not as good as Breville's interface, and Breville wisely chose to have its interface facing upward toward the user. In contrast, Vitamix has it facing forward, forcing you to bend over or crane your neck to get a good view.
We're big fans of the timer feature on the Super Q Pro, and the cleaning mode is a nice touch.
We made sauces, smoothies, vinaigrettes, peanut butter, and even tip-toed into aioli (which can break easily if it gets too warm), and these two blenders performed similarly. The Breville Super Q Pro just gave us better results each time.
You get more for less with Breville, too; a second jug (which is slightly larger than Vitamix's jug), a scraper, better results, a quitter motor, five useful one-touch programs, a cleaning mode, and 12 unique speed settings (the Vitamix has 10). And the Breville Super Q Pro costs $80 less. And an extra jug kit costs less than a Vitamix jug will – in case you want a third jug. We just might.
Editors' Recommendations


Read More: Can Breville's blender beat out Vitamix?