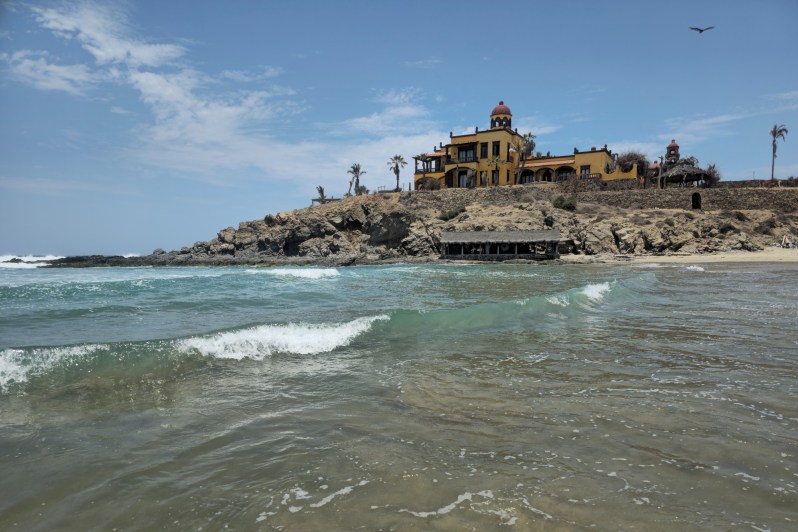 Typically, when we discuss Baja California Sur, Mexico, we usually talk about Tijuana, Rosarito, and Ensenada on the north end of the peninsula near the U.S. Border, or about Los Cabos on the southern tip of the Baja California peninsula. But for a good number of seasoned and savvy Baja travelers, they've enjoyed fewer crowds and more adventures in La Paz, Mexico. Far from (most of) the maddening crowds to the north and the south, La Paz offers everything from snorkeling and diving in the world-renowned Sea of Cortez to sandboarding the incredible dunes of El Mogote. You can surf the legendary waves of Baja's own Pueblo Mágico of Todos Santos and swerve through the charming streets of Downtown La Paz.
Whether you're eager to experience more of Baja that's off the most beaten paths, or you simply want to extend your Mexican vacation and do a day or two somewhere other than Los Cabos, La Paz probably has everything you need and much more that you want for a great escape. These are all the reasons you should put La Paz on your bucket list.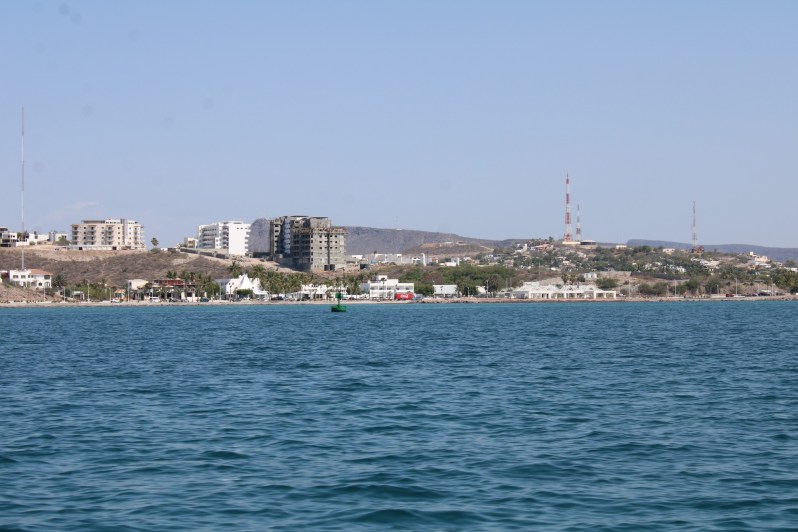 La Paz Municipality is located directly north of Los Cabos. (In Mexico, a municipality is a close equivalent of American counties and parishes.) The largest city, the municipal seat, and the Baja California Sur state capital is the city of La Paz on the Sea of Cortez (or Gulf of California) side of the peninsula. Though La Paz doesn't attract the massive tourist crowds that you usually find some 126 miles to the south in Cabo San Lucas, it's becoming an increasingly beloved ecotourism destination thanks to Islas del Golfo de California Flora and Fauna Protection Area, a UNESCO World Natural Heritage Site.
Even if you hadn't previously heard much about La Paz, you've probably heard more about Todos Santos in recent years. Situated near the southern tip of the Pacific Ocean side of La Paz Municipality some 49 miles north of Cabo San Lucas, Todos Santos is one of Mexico's 132 official Pueblos Mágicos, or "magical towns" that offer special experiences full of natural beauty, artistic flair, delectable gastronomy, and rich local culture. For years, surfers have loved to come here to ride the area's legendary waves. But more recently, Todos Santos has exploded in popularity as an artists' village and a relaxing coastal getaway.
If you're considering a trip to La Paz, Mexico, keep in mind that you won't find any major tourist-centric neighborhoods here like you see in Cabo, Puerto Vallarta, and Cancún. Though you will find some expat-friendly neighborhoods and some American suburban-like areas outside the urban core, what makes La Paz so special is that's so easy to discover a different side of Baja here: one where Mother Nature still roams wild and free, one where handcrafted art abounds, and one where various holes in the wall may serve some of the best comida you'll ever eat.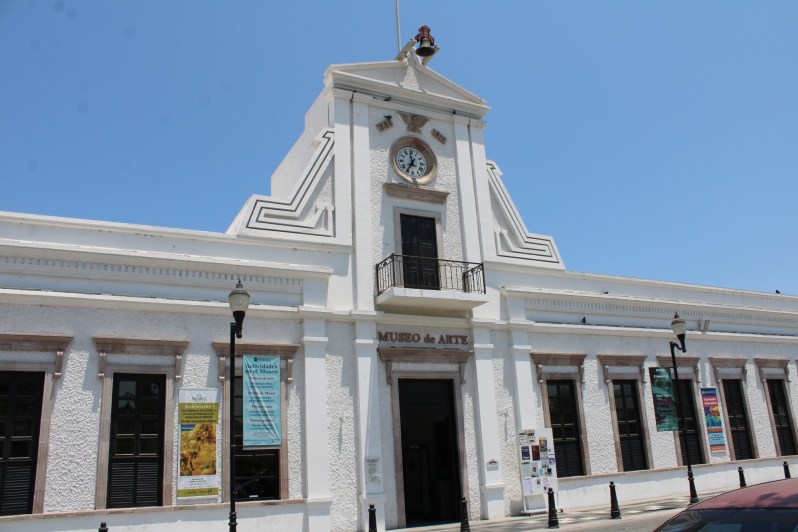 If you're a major "culture vulture," you'll probably want to reserve a day or two just to explore the city of La Paz. During my trip here, I loved walking through the historic downtown to discover the city's incredible history. La Catedral de Nuestra Señora de la Paz (or Our Lady of Peace Cathedral) was built in 1861 by Dominican missionaries on the site of the city's original 18th-century Jesuit mission, and it features a stunning melange of Neoclassical architecture outside and rich Baroque design inside. 
Then, at the nearby Museo de Arte de Baja California Sur, I perused their remarkable collection of contemporary art. When I visited, the overarching theme was identity, so they included everything from a mural depicting Baja California Sur's history to a festive collection of lucha libre art, as well as a photo gallery depicting Mexican people from all walks of life.
When I was ready to get out and about, it was great to stroll El Malecón. Not only is it the town's lovely "window to the sea," but it's also adorned with plenty of public art, including an homage to the region's one-time most famous export of pearls, as well as a monument to the French explorer Jacques Cousteau who lovingly declared the Sea of Cortez, "the aquarium of the world." And whenever you need a moment to chill, you will find many great local businesses nearby, including shops offering traditional raspados (or Mexican-style shaved ice) and aguas frescas (which are made with fruit, water, lime juice, and sweetener, and they tend to be lighter than American fruit punches).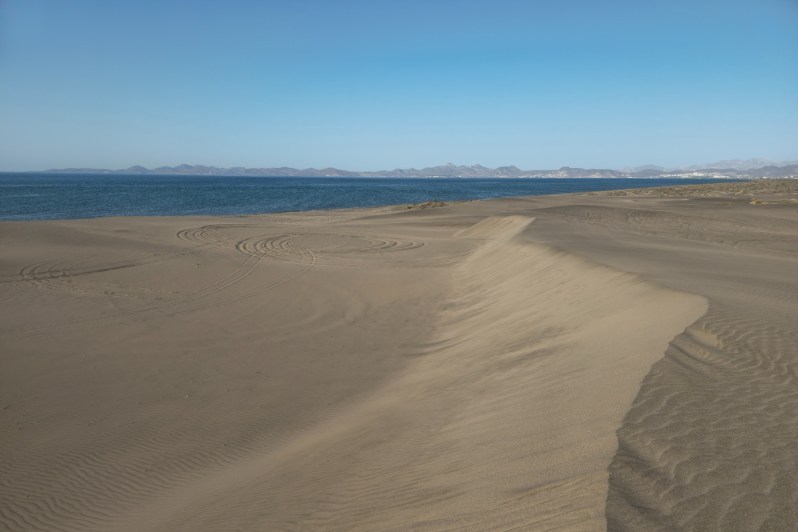 What on earth is sandboarding? Basically, it's like snowboarding, except you ride a board on dry sand. Since El Mogote has steep hills of soft, fine sand on a peninsula at the northern shore of the Bay of La Paz, it's the ideal place to try some sandboarding. 
Yes, I tried sandboarding myself. Yes, I quickly fell down because I'm naturally clumsy. Nevertheless, I had a great time stumbling and tumbling my way through the sand dunes while enjoying beautiful, panoramic views of the Sea of Cortez and the city of La Paz.
In addition, I got back in the kayak and rowed my way through the incredible mangrove forest nearby. It's hard to think of a better way to discover this unique environment and the amazing wildlife that call this place home than to row through the water that makes this ecosystem possible. If you're up for a unique adventure that transports you to a different world while keeping you close to town, try a kayak tour with the pros at Baja Desconocida. You can thank us later. 
As mentioned earlier, Islas del Golfo de California Flora and Fauna Protection Area is a UNESCO World Natural Heritage site, and Espiritu Santo Island is the ideal island to spot an incredible array of native wildlife, from dolphins and sea lions to sea turtles and birds. At this unique island where the desert meets the sea, I had so much fun snorkeling in the water and greeting the friendly and wildly colorful local fish. Along the way, I also had the great fortune of spotting manta rays, sea lions, and even a sea turtle swimming in the water.
Even if you're not planning on snorkeling or diving at Espiritu Santo, the scenery above the water alone is a great reason to get on a boat and visit. Depending on whom you're riding with, you can stop at one of the island's incredible beaches and enjoy your own "private beach day" on this island that feels very secluded despite being so close to town.
Fortunately, I got to go with the great team at On Board Baja. They not only had plenty of snorkel gear and additional water toys on hand, but they also had immense knowledge of the region's ecosystem and biodiversity, and they helped me better understand the incredible treasures that we found on and around the island. They even came prepared with an incredible lunch spread, and I especially enjoyed their ceviche. 
Even as Todos Santos is rapidly becoming a posh beach town that might remind Americans of similarly refined coastal hamlets like Laguna Beach and Martha's Vineyard, at its heart, it's still a classically Baja pueblo where people enjoy the art of simple yet great living. In town, I checked out the cool vibes before checking in at my hotel (more on this below), and I had a little time to explore the town during my first night in Baja.
Whether or not you're staying at Los Colibris (see below), you can sign up for tours with Todos Santos Eco Adventures. In town, they do historical walking tours, cooking classes with local chef Iker Algorri, art classes, and foodie tours. In addition, they do a wide array of nature tours of the Pacific Ocean side and the Sea of Cortez side of the Baja peninsula. 
While in Todos Santos, I did the historical walking tour and found an incredible array of surprises, from beautiful 1930s-era murals to fascinating remnants of Todos Santos' 18th-century Spanish colonial past. Yes, I even stopped at a certain hotel that's long been linked to a very famous song that the Eagles released as a single in 1977. Even though Don Felder and Don Henley have both insisted that Hotel California is more of an allegory of the dark underbelly of the United States, the L.A. showbiz scene, and the music industry in the 1970s, you can visit Todos Santos' own Hotel California and see why it's cultivated such a cult following.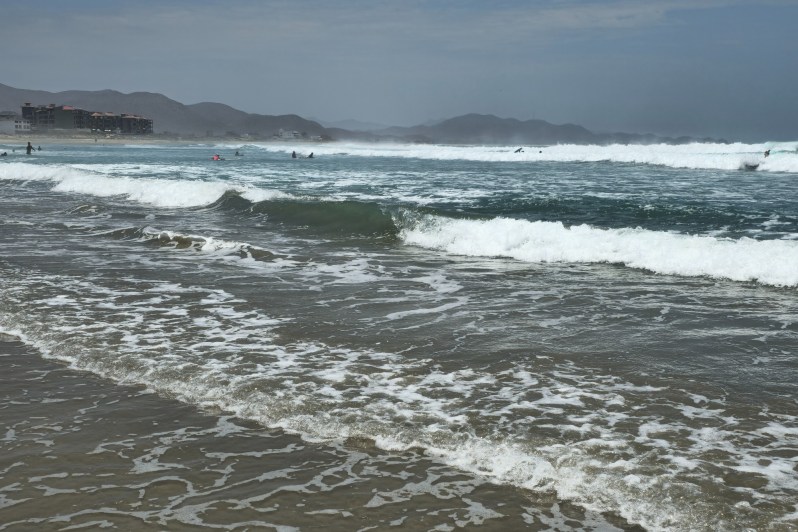 During our time at Todos Santos, we headed out to Playa Los Cerritos, which is about 10 miles south of the main village of Todos Santos. Though I'm exceptionally far from the world's best surfer, I nonetheless love any opportunity to jump in the ocean, so I merrily grabbed a board, paddled out into the open water, and tried my best to stay on the board while catching waves. 
While advanced-level surfers typically prefer the bigger and more consistent waves at San Pedrito to the north, Playa Los Cerritos is a better beach for beginners, especially during the summer season, when the current is calmer. With that said, keep in mind that this beach directly faces the Pacific Ocean, so expect stronger currents here. 
If you can use some surf lessons, book a day with Mario Surf School. Their team of expert surfers will help you get in the water, get on a board, and get going in catching some great waves. 
If you prefer megaresorts, you're better off staying in Cabo. As we discussed earlier, La Paz doesn't have a huge selection of multinational brand-name resorts like Los Cabos does to the south. However, that doesn't mean you won't have any nice options available. Here are the two properties I checked into during my La Paz trip.
Costa Baja Resort & Spa (La Paz)
If you thought that you have to go all the way down to Cabo to find any luxurious resorts in Baja California Sur, then it's time to think again. Costa Baja Resort & Spa offers a spectacular beachfront setting, its own marina, the nearby El Cortés Golf Club that's Mexico's only Gary Player Signature golf course, the Espíritu Spa, and multiple restaurants within the Puerta Cortés private community. Though Costa Baja is located within Puerta Cortés, you're less than five miles away from the heart of town.
Inside, all rooms and suites have their own pillow-top beds, flat-screen TVs with satellite TV service, and balconies with great views of the property. And since Costa Baja is equipped with WiFi internet throughout the property, you won't have to worry about completely disconnecting from the rest of the world during your stay here.
Nearest airport: Los Cabos
Time: 2-3 hours by car
Distance: 212 kilometers (or about 132 miles)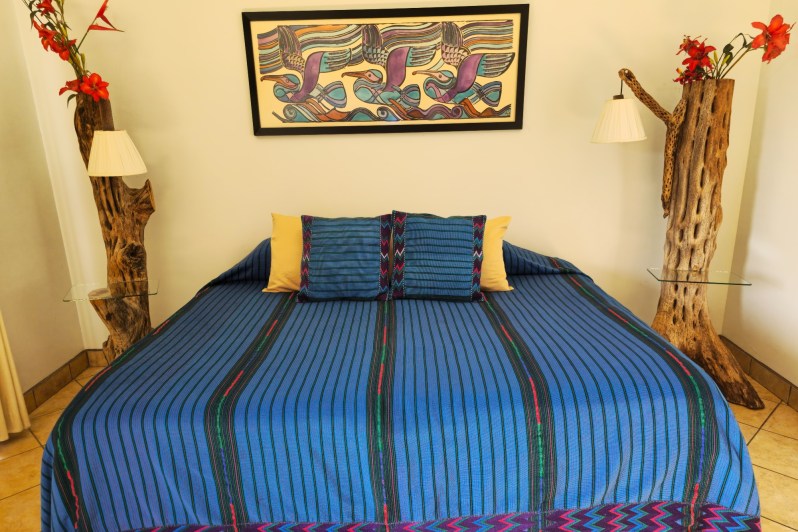 Los Colibris Casitas (Todos Santos)
Located on a hill above Playa Todos Santos (which is the closest beach to town), Los Colibris Casitas may be your best bet for beach-close accommodation in the area. Not only does Las Colibris offer amazing scenery, but it's also very eco-friendly: They're currently about 75% solar-powered, they offset carbon emissions through Neutral Together, and they work with Tomorrow's Air on responsible carbon capture and storage. 
While you're here, you'll have plenty of space inside and out, from the spacious and airy casitas with "shabby chic" style furnishings to their wondrous gardens and exquisite pool area. Before you head out for adventures around town (see above), take the seemingly meandering path to the pool, and start your morning with a refreshing swim in the pool while enjoying some jaw-dropping views of the beach and the wetlands below. If you have enough time later in the day, the pool area's also a great place to relax and start your evening wind-down routine.
If you're in the mood for a very special dinner after your day out on the town, sign up for a cooking class with local chef Iker Algorri. During my stay here, we made scallops and mole along with homemade guacamole and tortilla chips, and I had a great time enjoying great comida with new friends.
Nearest airport: Los Cabos
Time: 60–90 minutes by car
Distance: 112 kilometers (or about 70 miles)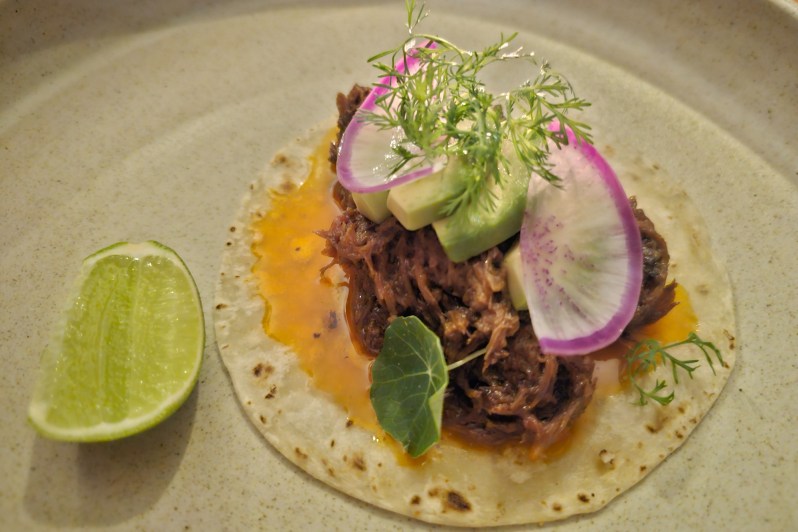 As someone who's called the Las Vegas Valley home for well over a decade, I feel uniquely qualified to say this: Cabo's dining scene increasingly resembles the restaurant scene at home. This is not an intrinsically bad thing, as both destinations have many great restaurants. It's just that with the proliferation of major megaresorts and tourist zones throughout Los Cabos, it's becoming increasingly common to find "celebrity chef" restaurants and chain restaurants at the southern tip of Baja California Sur, especially in the most touristy areas of Cabo San Lucas.
By contrast, La Paz's restaurant scene still feels very locally driven. Though you won't find the familiar "celebrity chef" names on restaurant signs around town, rest assured that La Paz abounds in locally grown culinary talent. And though Todos Santos doesn't have outposts of the buzziest restaurants and clubs that tend to draw jet setter crowds in Cabo, Todos Santos does have some phenomenal restaurants that will blow you away in a very different way.
Craving street food? La Paz has good grub on nearly every corner
La Paz locals are proud of their street food. If you've dreamed of a place that has taco trucks on every corner, La Paz comes pretty darned close with taco stands and homey holes in the wall all over town. If you need some cool refreshment after eating all those hot tacos, you will also find an abundance of raspado and ice cream shops in town as well. 
Getting back to street tacos, Tacos El Estadio near Zona Central is a consistent local favorite. Whether you're in the mood for authentic Baja fish tacos, tacos al pastor, quesadillas, and/or aguas frescas, Tacos El Estadio provides plenty of comidas y bebidas alongside great value.
If you're in the mood for something a little different that's still convenient and affordable, Mariscos El Molinito is where it's at. Grab a table and enjoy a feast of traditional Baja grub at this cozy neighborhood spot. From classic aguachiles to simple yet delectable molcajete mariscos stews, you can enjoy plenty of traditional La Paz seafood cuisine here.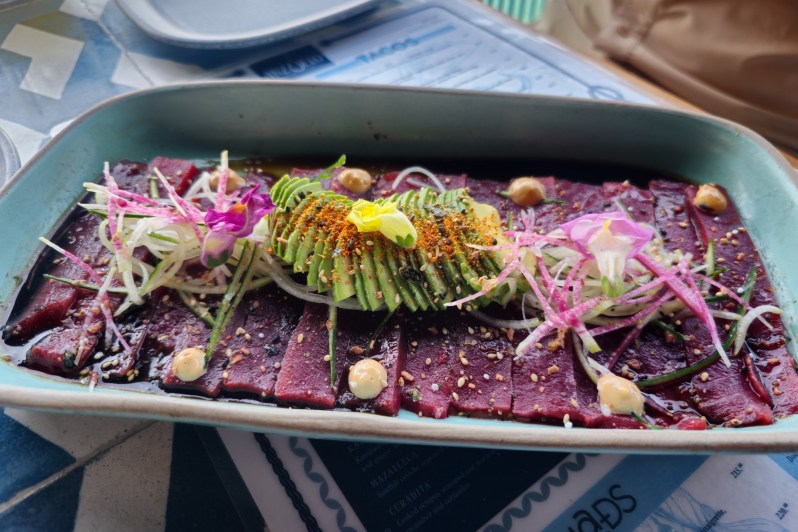 Anzuelo Cocina del Mar
At Anzuelo Cocina del Mar, the mariscos (or seafood) are so fresh that some diners even bring in freshly caught fish: "You hook, we cook!" But if you're not into fishing for your own lunch or dinner, you can still enjoy plenty of fresh mariscos in a cozy and friendly environment that might end up becoming your favorite "home kitchen away from home." If you like sashimi, you will love the sashimi they serve here. And if you like shrimp tacos, Anzuelo's shrimp gobernador taco is incredibly tasty.
Cardon
Located on the highest hill overlooking the Bay of La Paz, Cardón at Puerta Cortés offers some of the best views in town. Even better, their food offerings are quite amazing, too. From delectably decadent seafood pasta dishes to simply exquisite grilled "catches of the day," Cardón's innovative yet seasonal menu gives you a prime opportunity to dip into the dynamic avant-garde culinary scene of Baja California Sur while enjoying their takes on classic Mexican gastronomy. 
NEMI
At NEMI, chef Alejandro Villagomez lovingly pays homage to Mexican culinary tradition while reimagining the classics with contemporary flair and heightened elegance. When you're coming here, it's almost always a great idea to opt for their eight-course tasting menu. 
During my visit here, the tasting menu included a delectable beet salad, their very tasty rendition of tortilla soup, some amazing tempura crab, an unbelievably delicious tuna and tomato risotto dish, an al pastor-esque fish taco, one some of the best cheesecake I've ever had. To make my meal here even better, they served a fantastic variety of Mexican wines, plus they even served sake from Sinaloa. Yes, you can drink Mexican sake, and the Mexican sake I drank tasted great.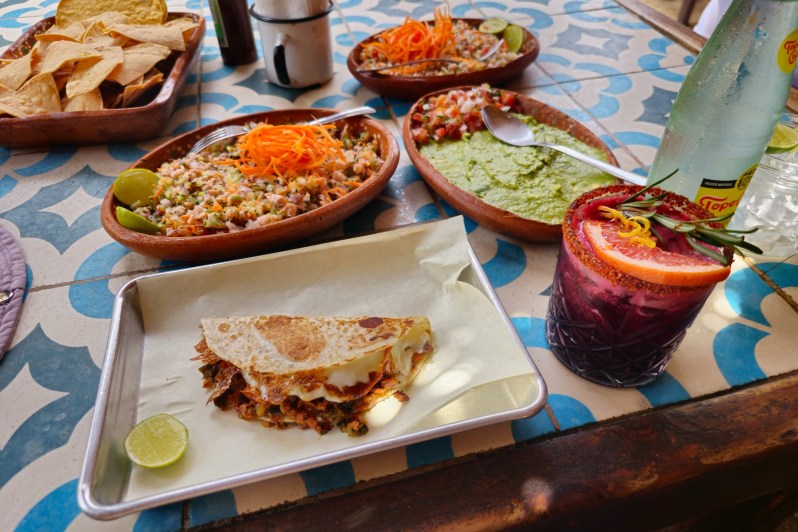 Yes, you can also eat well in Todos Santos. Here's the ultimate cheat sheet
As we alluded to earlier, Todos Santos doesn't have the kinds of "destination dining" multinational brands that you'll find all over Cabo. And really, locals and longtime travelers prefer it this way. While you will find a handful of regional chains, such as Docecuarenta Cafe, Todos Santos' local dining scene truly is centered around local ingredients, local talent, and local traditions.
If you want a place for a more elevated lunch or dinner experience, try Oystera in the heart of town. Born in Sonora, educated in Vancouver (specifically, at the Pacific Culinary Arts School), and experienced in European gastronomy, Chef Pancho Cadena now calls Todos Santos home, and he's passionate about contributing to the local culinary scene here. Though this is primarily a seafood restaurant, they do have a few vegetarian, vegan, and land-based meat options if you're not into seafood. But if you do enjoy seafood, then Oystera will likely wow you with their incredible selection of oysters, aguachiles, ceviches, sashimi, and so much more. 
If you need a place to refuel after a long day at play in Cerritos Beach, Barracuda Cantina is the place to go. It's a family-owned and operated restaurant that just so happened to become famous thanks to its feature in Season 2, Episode 7, of Netflix's Taco Chronicles. Despite the recent bout of fame, Dano and Karla continue to serve the best comida that's made with the best locally sourced and sustainable seafood and produce. Come for the fish tacos, stay for the shrimp quesadillas, and linger around longer for an extra margarita or two (as long as you're not driving).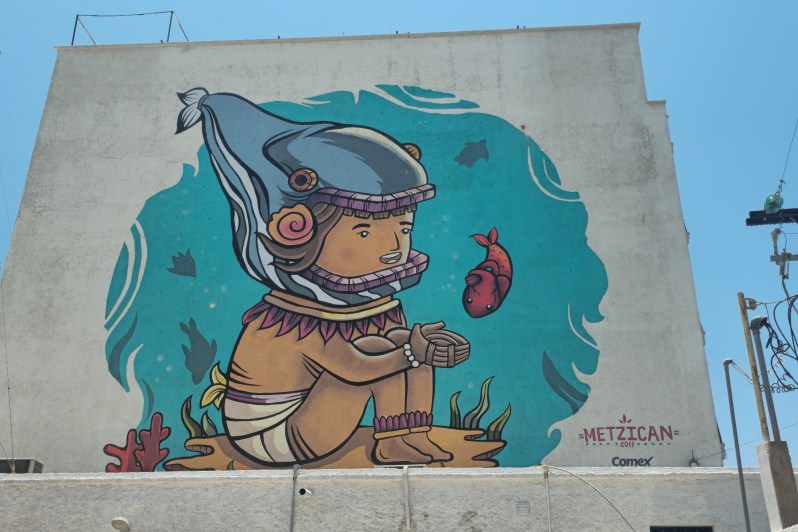 Yes, I've seen many of the typical U.S. news stories emphasizing the ongoing cartel drug war violence across Mexico. While I don't intend to deny the harsh and tragic reality for the communities most severely impacted by cartel "drug war" battles, I do think we should avoid creating false stereotypes for an entire country based on media reporting that only focuses on the absolutely worst headline news from Mexico. Though the U.S. State Department currently recommends "exercising increased caution" when traveling to and through Baja California Sur, it's actually less scary than it sounds. This is the equivalent of the Level 2 category that the State Department has for countries like France, Germany, and the Bahamas that are traditionally considered safe for travel, and the U.S. government has no actual travel restrictions in Baja California Sur for U.S. government workers as of July 2023. 
Quite frankly, I felt very safe throughout my journeys in La Paz and Todos Santos. I never once felt threatened while I was out and about, even when I was walking around the city. With this said, it's always a good idea to take some simple yet critical precautions to protect yourself. Whenever you're in need of urgent aid, you can always contact the U.S. Embassy.
While we're debunking terrible stereotypes, let's also address this: There's much more to Mexican life and culture beyond the 24/7 fiesta atmosphere in major tourist hotspots like Cabo San Lucas and Cancún. Yes, you can have plenty of fun at the bars every night if that's your jam. But if the bar scene is not for you, there's no shortage of ways to have fun without getting wasted. Though the locals don't really want La Paz to become another Cabo, they're nonetheless happy to welcome visitors. Please remember to be respectful and courteous, and your good attitude will go a long way.
If your idea of the ideal Mexican vacation mostly involves mega-resorts, nightclubs, and getting lost in huge tourist crowds, then you may be better off going to Cabo. But if you seek a different kind of Mexico trip that's full of outdoor adventure, charming pueblos, and secluded beaches, then La Paz may be your new favorite Baja coastal getaway. If you need to escape the maddening crowds of Cabo, take Highway 19 north to Todos Santos to explore pristine beaches and a town that's full of "magic." And whenever you're ready to discover a different side of Baja, take Highway 1 north to La Paz to experience a town that abounds in natural beauty all around.
Editors' Recommendations


Read More: Yes, there's plenty more of Baja California Sur for you to explore beyond Los Cabos