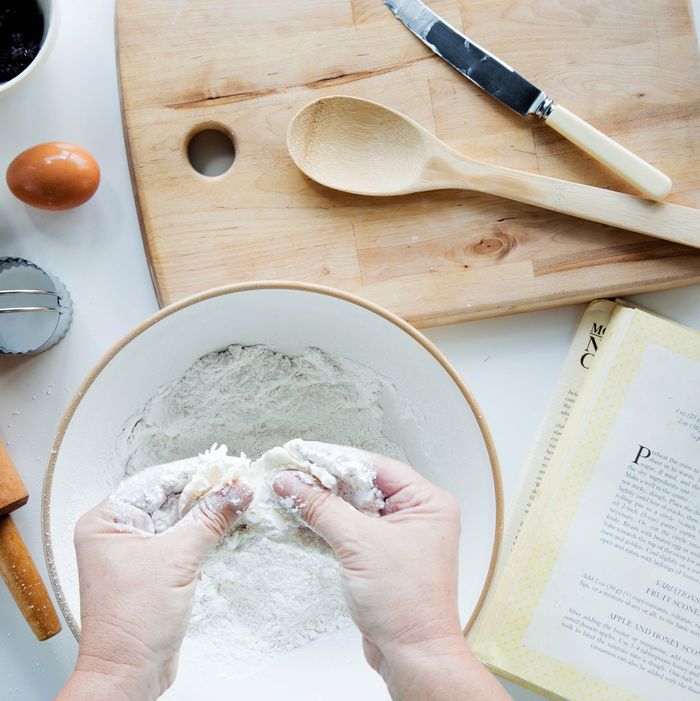 Photo: Gary John Norman/Getty Images/Image Source
No matter who I talk to, the goal to "eat at home more often" is at the top of everyone's to-do list. Apparently, it's just not as enticing as spending your whole paycheck on a night out to dinner with friends — but these cookbooks may change your mind. From mimicking recipes created by your favorite hard-to-get reservation spots to perfecting the art of outdoor dining at home, these cookbooks are stocked with recipes that will make you actually want to spend time in your kitchen.
Below, the Cut staff has compiled a list of some of our go-to cookbooks for every type of chef, diet, and skill level. Keep reading to channel your inner Ina Garten.
I've been relying a lot on the baked recipes in Susan Spungen's new cookbook, Open Kitchen. Its tagline reads, "Inspired food for casual gatherings," and what's more casual than isolation? Jokes aside, whether it's a squash-and-squash-blossom frittata, a vegetable galette, or even a risotto of butternut squash and sage that's baked in a pan, the mere act of taking these dishes out of the oven, along with their intoxicating aromas, has felt very comforting. — Jane Larkworthy, columnist
One of my most-used cookbooks of all time is Food52's Genius Recipes, which has truly changed how I cook. Many of the recipes read as classics — biscuits, tomato soup, ratatouille — but feature an unexpected technique that revives a dish that can easily feel tired. (It features a recipe for steel-cut oatmeal — I know, I know — that tastes unlike any bowl of mush I've ever made, thanks to more than a generous pinch of salt.) While I consider many recipes in it standbys, right now I'd recommend the warm squash and chickpea salad with tahini, the olive-oil granola, and the spicy tomato soup, all of which only call for a handful of recognizable, shelf-stable ingredients. — Amanda Arnold, writer
Like every good millennial, I've been making a lot of Alison Roman recipes. I made the focaccia pizza a few nights ago, which was delicious, and the scallion salmon is the first thing I'm making when I have access to salmon again. She also just has great ideas that aren't really recipes but suggestions, like: Steam your broccoli and dress it with so much lemon it's almost inedible, but edible enough to be irresistible. Or eat baked potatoes for a group dinner. It will also get you to like anchovies, or at least appreciate the depth of flavor they lend to that sauce. — Sarah Spellings, fashion writer
Yotam Ottolenghi has long been one of my favorite cookbook authors, but most of his recipes require so many ingredients, which doesn't make sense when you're trying to ration or worrying about groceries. His newest book, however, does: Simple. My favorite recipe is the tofu and green beans with chraimeh sauce, but I'm also a huge fan of his lentil recipes (both in this book and ones you can find online). — Amanda Arnold, writer
I'm taking a break from my usual desk salads and healthy boring stuff and really leaning into carbs, stews, and baking. I'm really into Alison Roman's squash recipe and pork soup, because it's easy to whip up largely with ingredients you already have. Plus, they're easily adaptable to your individual tastes and are small-kitchen friendly. My boyfriend is Russian, so I figured I might as well try to master a few recipes to impress him. I like that it's sort of a challenge, since Eastern European cuisine is uncharted territory for me. Olia Hercules's Mamushka has been my go-to because it puts a contemporary spin on Eastern European classics, and it feels very approachable for beginners. — Indya Brown, fashion-partnerships editor
I've been leaning on my girl Chrissy Teigen, who really knows her shit. I adore her two cookbooks, Cravings, because they incorporate her sense of humor and matter-of-fact attitude into cooking. You get simple, easy recipes that don't need a ton of fancy ingredients — and above all are beyond delicious. May I recommend the seared steak with spicy garlic-miso butter with asparagus? It's incredible, and you'll want to eat the miso butter on absolutely everything possible. — Kerensa Cadenas, senior editor
I've made two roast chickens in the last week. One was Susie Theodorou's Mediterranean cookbook. She has an insanely easy slow-roasted lemon-and-garlic chicken that is super-delicious. And if you are feeling more experimental, try making Carla Lalli Music's rack-roasted chicken with gravy potatoes. The chicken sits on the rack roasting while the potatoes are under the rack roasting in the juices. You'll cook it almost twice as long as Theodorou's recipe, but it's super-comforting and you'll have leftovers for days. Plus you'll feel like a cooking master afterward. — Liane Radel, senior photo editor
To me, pasta is not only the most comforting food to eat but also the most comforting food to cook. It's easy and unfussy and usually just involves letting a pot of sauce simmer on the stove for a while. My favorite pasta cookbook is Essentials of Classic Italian Cooking, by Marcella Hazan. If you're in the mood for something more ambitious, I recommend her Bolognese. It requires three hours of simmering, but it's worth it. — Erica Schwiegershausen, editor
If you've never cooked anything before, may I recommend Mark Bittman's How to Cook Everything? It combines the ease and "you can do it" attitude of an Alison Roman recipe with the comprehensiveness of an encyclopedia. There's also How to Cook Everything Vegetarian if you need more advice on legumes and less on chicken thighs. Start with the fried rice, which is easier than a newbie cook might think. — Izzy Grinspan, deputy style editor
Yes, Laurie Colwin's Home Cooking is more an essay collection with recipes than an actual cookbook, but it is so intensely nice and soothing that it would be editorial malpractice not to include it here. A college mentor introduced me to Colwin right after graduation, and I've relied on her work as literary lorazepam ever since. The essay "Alone in the Kitchen With an Eggplant" — about being in your 20s in New York and figuring out how to cook — is a classic. "For eight years I lived in a one-room apartment a little larger than the Columbia Encyclopedia," it begins. Colwin goes on to describe weird solo snacks, dinner parties cooked on a hot plate, dishes done in the bathtub, and hangovers spent lying in bed wondering what to make next … before emerging to wander the neighborhood in search of ingredients. — Molly Fischer, features writer
It's no secret that salads get a pretty bad rap, but that's mainly owing to the fact most of us don't take risks with our desk lunch. I'll be the first to admit that I'm a routine eater and order the same Whole Foods salad on repeat — but it's time for an upgrade. Salad Freak sparks ideas for unlikely combinations and inspires a fresh approach to this tried-and-true dish. — Kendall Becker, a Cut Shop contributor 
I've binged more hours of Bourdain than I'll ever admit — but if there's one man I trust on food insight, it's him. Outside his culinary tenure and days on the road, he was quite an at-home entertainer. This cookbook outlines staple recipes that he believed everyone should know, punctuated with his signature storytelling and sense of humor. — K.B. 
If you're on the same side of TikTok as I am, you'll see that natural healing is a hot topic of conversation in the wellness community. Ayurveda is an ancient Indian medical system that takes a holistic approach to health and wellness, focusing on the power of food as medicine. This cookbook aggregates healing recipes curated by pain-point, specifically for women. — K.B.
Photo: retailer
Hot take: There's nothing more boring than a standard birthday cake. This cookbook is full of inspired dessert recipes that will convert you into a dessert person, if you aren't already. Plus it's guided by skill level, so no need to stress if you've burnt cookies one too many times. — K.B.
Photo: Chronicle Books
There's something about California cuisine that feels elevated, interesting, and simultaneously healthy. From Sarah and Evan Rich, the chefs behind Michelin-starred Rich Table in San Francisco, this cookbook combines California cool with fine dining. The photography is equally as sublime as the recipes. — K.B.
Whether it's the summertime or you're simply prepping to impress for the outdoor dining season, this cookbook should be your ultimate guide to alfresco dining. Get ready to impress your guests with recipes that range from casual cookout-worthy to swanky soirée-approved. — K.B.
If you're sick of trying to get a Via Carota reservation, grab the cookbook instead. James Beard Award–winning chefs Jody Williams and Rita Sodi have curated more than 140 vegetable-centric Italian dishes that you can (attempt) to master from your own kitchen. If you're looking to impress a date, this may just be the second best option. — K.B.
If you're the type of person who can't stop watching Trader Joe's hauls, this cookbook is for you. It takes TJ's most beloved items and turns them into 150 recipes to help spice up your typical grocery run. It's perfect for the budget-friendly chef. — K.B.


Read More: 18 Cookbooks We Love Right Now