Loan helped Cedar Rapids restaurant buy a sign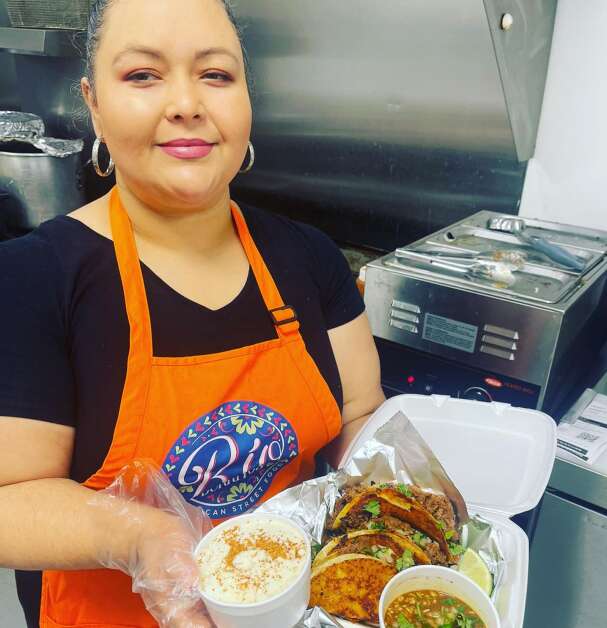 CEDAR RAPIDS — When the 2020 derecho damaged Phoebe Rios' food truck, she and her family took a break to decide what was next for Rio Burritos.
Three years later, Rio Burritos is back in a big way, with a new brick-and-mortar home at 5001 First Ave. SE in Cedar Rapids. Focusing on authentic Mexican street food, the restaurant featured a soft opening this month that brought more business than Rios and her family ever expected.
"We wanted to start small," she says. "But the location is off of a really busy street, and we have a lot of visibility. It's also on the side of town where people from both Marion and Cedar Rapids can get to. So business has been going really well."
So well, in fact, that Rios realized she and her family would need some additional funding for equipment in their new space. That's why she sought a loan through Kiva Iowa.
Kiva gives entrepreneurs access to a microlending platform to raise zero- interest, zero-fee, extended-grace-period loans. The loans can be for up to $15,000, and crowdsourced lenders can give as little as $25 at a time.
After reading a Gazette article about another Kiva borrower whose business was similar to hers, Rios says she thought, "Well, why can't I apply for that? I should be able to do it, too." And she was right.
"As soon as we posted that we were doing this, everyone was willing to help," Rios says. "We have a really strong community in Cedar Rapids, and it was amazing to see how many people participated and gave their own small piece of making this possible."
The loan was intended to help buy equipment for the new space, and Rios said much of it went to the new sign that advertises the restaurant. But with the high visibility the sign brought, the investment quickly paid for itself, she says.
"It's the best business decision I could have made," she says. "The first day the sign went up, we had so many people walking in saying, 'I saw the sign.' And we weren't even open for business yet."
Rios was so happy with the Kiva program, in fact, that she says she's since become a lender herself, lending support to businesses she believes in.
"That's the whole concept of this program: Every little bit helps," she says. "And it's amazing to see other people just like us — women, minorities, people who are in business all over, including other countries — who have the same dream."
As for Rios' dream, she says she hopes that Rio Burritos will continue to provide employment opportunities for her entire family, allowing them all to work together and "get to bring a little bit of our culture to everyone."
"That's one of the most amazing things about food: It unites people from all nationalities and backgrounds," she says. "I can bring something that's from my family and my culture, and someone from Africa, or India, or anywhere else, can enjoy what we make as a family."
To learn more about Rio Burritos, visit its site on Facebook or at https://www.rioburritos.com/. To learn more about Kiva Iowa, visit newbo.co/kiva.




Read More: KIVA Iowa profile: Food and family