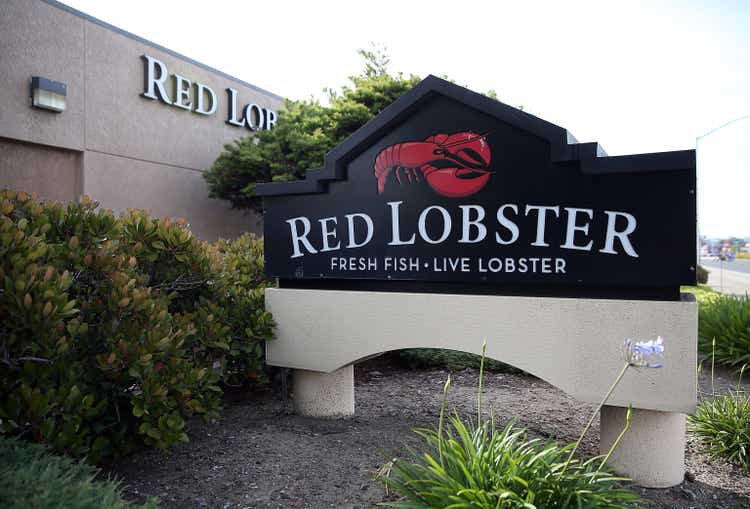 Thesis
Being an investor that enjoys the income dividends provide, I am often extremely observant of where money is being spent. Where the money is spent, is where I look for opportunities to invest. With the case of Darden Restaurants (NYSE:DRI), is an opportunity to increase your investment cash flow and enjoy some price appreciation. With a portfolio of globally recognized brands, increased consumer spend on outside dining, and a decent starting dividend yield, DRI presents an interesting opportunity.
With the increased trend of people spending money at casual dining places daily rather than grocery shopping or meal prepping, I fully expect DRI to continue delivering strong performance and growth. This alongside the recent acquisition of Ruth Chris, I expect the strategic moves DRI is making to contribute to their margin and revenue growth.
Portfolio Expansion
Darden Restaurants is a restaurant service company that owns more than 1,800 restaurants across the USA. Some of these restaurants include LongHorn Steakhouse, Olive Garden, Red Lobster, Ruth Chris, and a few more really popular brands. The their most recent acquisition of Ruth Chris in June of 2023, DRI expanded their portfolio by having a sector of restaurants in the fine dining space. The acquisition helps DRI with more customer reach as Ruth Chris has 154 locations around the globe. Whether or not Ruth Chris is actually considered "fine dining" is subjective but overall, their prices per plate sure scream fine dining since the average check amount for customers come to $97. Before the acquisition, Ruth Chris was pulling in $500M in annual revenue and $76M transaction adjusted EBITDA. According to the data, fine dining achieves a higher profit margin between 17% – 23% compared to casual dining margins of only 11% – 26%.
Fine dining sales have a project CAGR of 7% through 2026 and this is further supported by a survey conducted that resulted in 73% of affluent customers confirming that they plan to either maintain or increase their spend at casual or fine dining restaurants. I believe that this provides insight to an opportunity to capture in the growth of this fine dining segment. Despite the short term outlook, we can clearly see there is a demand in this sector of dining.
Increased Spending On Dinning
The spending trend of Americans reveals a growing disparity between spending at restaurants and on groceries. Statistically, in 2022, individuals allocated 20.7% more of their funds towards dining out compared to their grocery expenses. I fully expect this gap to widen since the general verdict is that many people still feel that the cost of groceries are too high.
Traditionally, grocery spending has been a significant portion of household budgets, as it includes essential items for daily meals prepared at home. However, I believe this trend has been changing due to 3 main reasons.
The fast-paced lifestyles of many individuals have led to an increased preference for convenience. As people work more hours, they are finding it more convenient to eat out. Second, the rise of food delivery apps and services has made it even easier for people to access restaurant meals without leaving their homes. This has contributed to the growth of restaurant spending, as consumers can enjoy their favorite foods without the need to visit a physical establishment. Most importantly, economic conditions such as changes in disposable income and employment, can impact consumer behavior. In times of economic growth, people may feel more comfortable spending on dining experiences.
We can see that these statistics do align as sales for Olive Garden, LongHorn, and a few other restaurants under DRI has seen sale growth starting at 5%. Averaged out across all segments of DRI, their restaurants have seen a total sales growth of 6.8% while maintaining a 7.7% CARG on adjusted EBITDA from continuing operations.
Dividend – Cash Flow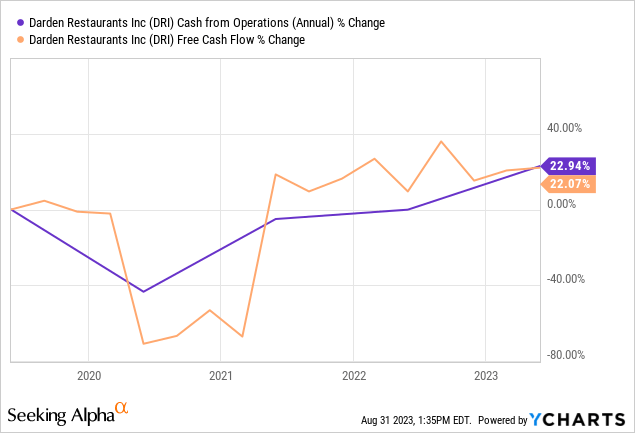 DRI has seen a healthy influx of cash from operations post-pandemic as well as a healthy amount of free cash flow after all financial obligations. As previously mentioned, the 17% minimum expected CAGR in the fine dining sector will attribute to continuing this trend. As cash flow increases, we may see future acquisitions as well future dividend increases.
As a whole, DRI experienced sales growth of 8% and performed well with a net EPS of $8/share.
For the full fiscal year, we grew sales by 8.9% to $10.5 billion, delivered diluted net earnings per share of $8 and opened 57 new restaurants. We also opened nine new international franchise restaurants in six different countries, which is the most we've ever opened in a fiscal year. – Rick Cardenas, President & CEO
In the latest earnings call, the increase in sales came from higher prices and opening new restaurants. This led to a 4% growth in average weekly sales compared to last year. As growth continues, I believe that investors can expect more dividend raises in the future. During the height of the pandemic, DRI completely stopped their dividend in 2020. Now that the worst is out of the way, I personally expect steady increases from here on out. With a starting annually yield of 3.3% and a 5 year growth rate of 13%, this is a strong dividend play if you want to capture the post pandemic recovery and the consumer spend growth.
Valuation
Using a DCF model (Discounted Cash Flow), we use conservative estimate to determine the fair value of DRI's stock price. If we follow the results from their most recent earnings call, we can use their 8% sales grow combined with their estimated 2024 EPS of 8.75 to determine that the fair value of DRI will be $173.85/share.
A price target of $173.85 represents a potential price upside of 11%by next year. I plan to start a position here and collect some nice dividend distributions while waiting for the upside to take place.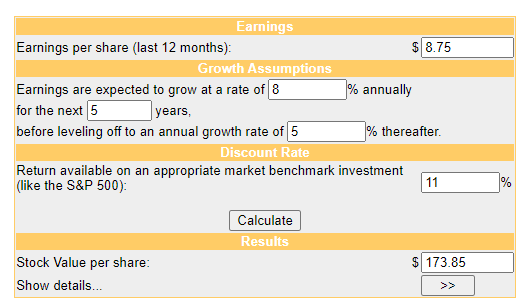 DRI displays strong potential to capture a larger market share and increase its revenue while the casual and fine dining markets start to see increased revenue. DRI also presents an attractive forward dividend yield of 3.3%, complemented by effective shareholder-oriented strategies such as buybacks. Taking these aspects into consideration, the current price seems to be fair value but the growth potential makes this a buy for me.
Conclusion
Darden Restaurants presents a compelling investment opportunity, aligning with the trend of increased consumer spending on dining out. The recent acquisition of Ruth Chris adds potential for margin growth, as fine dining typically boasts higher profit margins. Economic factors and effective management strategies have driven notable sales growth and a solid net EPS of $8/share.
DRI's commitment to shareholders is evident through a stable 3.3% dividend yield. As post-pandemic recovery continues and consumer spending trends upward, DRI's potential for dividend increases gains significance. A conservative valuation using a Discounted Cash Flow model suggests a fair stock price value at the moment, but a 11% upside potential going into 2024.
Considering these dynamics, DRI emerges as an attractive choice for investors seeking income dividends and potential capital appreciation. With its strategic moves and ability to harness evolving market trends, DRI stands as a recommended investment opportunity.


Read More: Darden Restaurants: Increased Consumer Dining Spend (NYSE:DRI)