Masala Zone Piccadilly Circus, 224 Piccadilly, London W1J 9HP (020 7930 6622). Small plates £4.50-£7.40, large dishes and thalis £13.75-£19.50, desserts £6.25-£7.25, wines from £28
At last. At long bloody last. The neo-Byzantine, gold-tiled glories of the Criterion on Piccadilly Circus have finally got the restaurant both they and London deserve. If this makes me sound old and weary and grouchy well, perhaps I am. This is the third restaurant on the site that I have reviewed over the years. Each time I have returned with hope in my heart and fear in my belly, desperate to recapture the true sense of the people's palace it was when I used to drink here in the late 1980s.
Perhaps we should start with: "Previously, at the Criterion…" For a while in the 1990s Marco Pierre White had it. He served an underwhelming "will this do?" menu of old stagers which were meant to recall his glory days at the top of the trade, only at a knockdown price. They didn't. All I recall is a mediocre chicken kiev which was a terrible waste of both chicken and garlic butter. That's a terrible sentence to have to write. It was taken over by a Georgian business and became a truly dismal joint flogging a red pepper soup that tasted mostly of sugar and a gummy crab risotto. For some reason a man in elbow-length rubber gloves kept wandering around the dining room with a bucket.
Next up, the Savini group of Milan opened a lousy fancy Italian and when that didn't work, architectural violence was committed on the place. They turned it into an outpost of their Italian mid-market restaurant group Granaio. This meant constructing a fake arbour down the length of the room, strung with greenery. It completely obscured the gold-tiled ceiling, which has been the whole point of the Criterion since first it opened in 1874. I peeked in one day and felt like I'd just witnessed an old friend being punched in the face repeatedly.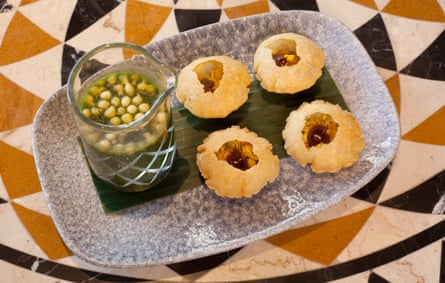 Now it has become the fourth branch of Masala Zone, the mid-market Indian group owned by the restaurant company MW Eat, which also has the rather fancier Chutney Mary, Amaya and Veeraswamy. They are skilled and experienced Indian restaurateurs who pay enormous attention to detail and boy, have they gone for it here. Until now the grandeur of the Criterion has stood as a high-water mark for Victorian opulence in which more was always more. Now, with its shimmering gold and marble walls, it gets to cosplay as a grand maharajah's palace. There are ornate fretwork screens separating central booths. There are drapes of Indian art, relief panels, sexy lighting and in the very back of the long room, an extraordinary sweeping floral carpet of peacocking exuberance.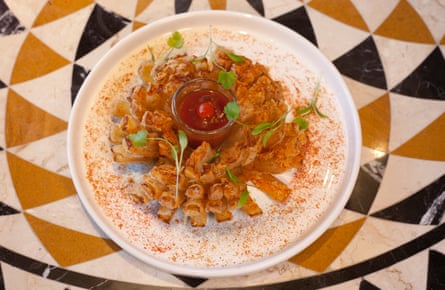 So far, so delightful. What makes this whole venture so joyous, so profoundly cheering, is not just the great cooking, which is what I'd expect from this team, but the pricing. The vast majority of main dishes are in the mid-teens, with only a lamb biryani and a lamb rogan josh thali nudging £20. The very heart of London, and we're deep into left ventricle territory here, has never offered much in the way of affordable luxury. That's what this is, right under the beady eye of Eros, but locked away behind double glass doors so you can't hear the busker outside enthusiastically murdering Shape of You.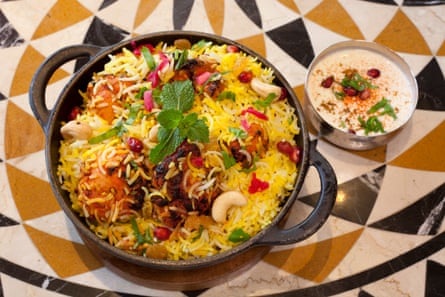 The lunchtime menu opens with a series of small plates priced at between £4.50 and £7.40: samosas and chaats, Chettinad fishcakes, lamb sliders and more. For £23 a head they will bring you seven of them. We begin with an onion flower bhaji. It's a tribute to extraordinary knifework, the crisp, gram flour-battered half onion holding its shape as a bloom so you can pick off individual petals to dip into the sprightly chaat chutney. We have tissue-thin golden puri filled with spiced potatoes, chickpeas, onions and tamarind, with a tiny jug of tamarind water on the side. Pour one into the other then pop them into your mouth in one so you don't end up dribbling everything down your chin. Spiced papad come with an aromatic mango chutney with solid cubes of fruit, alongside a brilliant green coriander relish.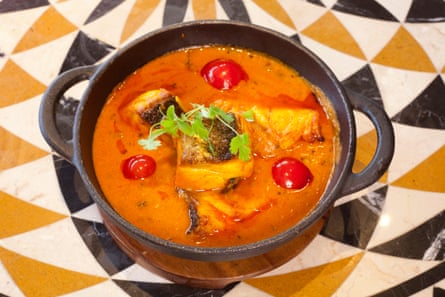 Star of our lunch is a chicken biryani of fluffy rice, each grain merely loitering on the next for company, which comes wafting saffron and spice. It's also, like the room, a total looker: not just the calming butter yellow of saffron, but the crimson of pomegranate seeds, the golden blush of toasted cashews and the lawn green of fresh herbs, all of it hiding soft boulders of spiced chicken. The rice is also a perfect base for the chilli-hot, lightly vinegared, tomato-based Bihari fish curry made with chunks of skin-on coley. We dredge away at it with smoky pieces of buttery naan, and add dollops of yellow lentil dal, pungent with roast garlic. It's the dal of the day. Every menu should have a dal of the day. What's striking is the range and regional depth of the menu offering.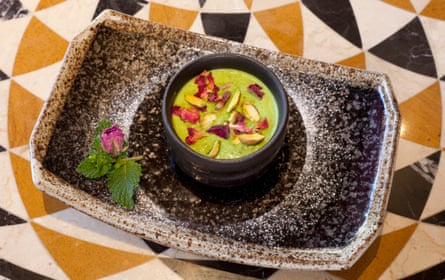 The dessert choice is not surprising or lengthy but it's done equally well. A mound of carrot halwa comes on a biscuit base one might describe as buttery, and has just enough acidity to cut through the sweetness. Pistachio kulfi is a shocking green and cooling way to finish. There's a fun-sounding cocktail list including a ginger old-fashioned, plus a good wine choice, the value of which is marked by champagne at £13.50 a glass, a serious bargain in this part of town. I am being good, and have instead a lemon soda with just an edge of saltiness.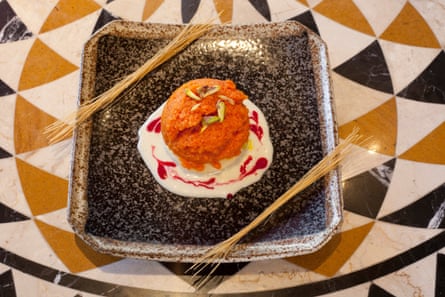 Anything to gripe about? Oh sure. What would life be without that? They could save money, energy and the planet by turning down the air conditioning. And right at the end, our waiter proffers a computer tablet so I can provide feedback. I know this column gives me an opportunity to say what I think. But even if I wasn't writing about the place, I still wouldn't want to finish a meal by having to mark the restaurant's homework. Send a needy, enquiring email if you must. I can ignore that. But please don't go begging for electronic affirmation before we're out the door. It's not the diner's job to make the restaurant feel good about itself. It's the restaurant's job to show the diner a good time. This new Masala Zone already does exactly that. It's a shimmering gift to central London. Please don't make me jab at a tablet to prove my devotion. Just wait for me to return. I promise I will.
News bites
Tickets are on sale for the Stranraer Oyster Festival, which takes place across the weekend of 15-17 September. Apart from the opportunity to eat an awful lot of oysters there are demonstrations and events involving a range of cooks including Tony Singh, Michael Caines and the Guardian's Felicity Cloake. Saturday's highlight is an oyster shucking contest for the Scottish title. The winner will go through to the worlds to be held in Galway in late September. At stranraeroysterfestival.com.
There's been a lot in News bites recently about chefs closing their restaurants because of the current economic challenges. So let's celebrate longevity. James Buss of the Dering Arms in Pluckley near Ashford, Kent, is selling up after 40 years. Buss took over the pub when he was just 27 and made a name for himself locally for his seafood cookery, the ingredients for which were sourced from trips to Folkestone. 'It will be sad to go,' he told Kent Online. 'I want it to go on to someone else while it's still bouncing.' Visit deringarms.com.
There's money in overfilled sandwiches made with over-sweet bread. Subway, which has been owned by the founding families since the first branch opened in Connecticut in 1965, has been sold for $9.55bn to investment firm Roark Capital, which owns a range of fast-food businesses including Baskin-Robbins, Arby's, and Dunkin'. Subway claims to have more outlets worldwide than any other restaurant chain. There are over 2,100 in the UK, 20,000 in the US, 1,500 in Brazil and just one in Djibouti. At subway.com.
Email Jay at jay.rayner@observer.co.uk or follow him on Twitter @jayrayner1




Read More: Masala Zone, Piccadilly Circus: 'A profoundly cheering venture' – restaurant review